Just in case you think that the 4K resolution (3840*2160) is a thing to last for a long time, think again since 8K (7680*4320) technology may be approaching faster than expected. Samsung Electronics and some other consumer electronics companies this week showcased their first prototypes of 8K ultra-high-definition TVs at the Consumer Electronics Show. While there is no word when such TVs are set to arrive commercially, there are indications that they may start to show up on the market in about two years' time.
Japan Broadcasting Corp. (NHK, Nippon Hoso Kyokai) has been developing 8K (7680*4320 resolution, four times higher than the 4K and 16 times higher compared to contemporary full-HD) format it calls super-hi vision (SHV) since 1995. The company plans to initiate commercial broadcasting of Rio de Janeiro Olympics in 8K/SHV in 2016. At the 2013 Cannes Film Festival NHK publicly demonstrated Beauties À La Carte, a 27-minute comedy directed by Toshio Lee (mostly known for Detroit Metal City), in 8K resolution on a 220" screen.
Until now, to demonstrate the beauty of 8K ultra-high-definition (UHD) resolution, various companies and organizations relied on custom-made displays. Apparently, 8K TVs are coming closer: at this week's CES, Samsung Electronics demonstrated a prototype of an actual 98" 8K television with LED backlighting, reports Gizmodo. According to DailyStar, Sharp, Phillips and Dolby were also showcasing their new 8K TV technology at the trade-show.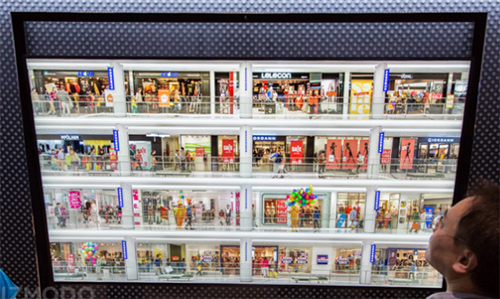 Samsung's prototype 8K UHDTV. Photo by Gizmodo web-site.
To demonstrate currently unimaginable level of details provided by 8K resolution, Samsung showcased a footage depicting a cross section of four floors of a large mall and gave attendees an ability to have a detailed look at every person or store that appear on the video.
The fact that not only Samsung showcased its 8K UHDTV, but also Sharp (actually, Sharp has been demonstrating prototype 8K screens for a couple of years now to show off advantages of its IGZO display panel technology), Philips and Dolby  are showcasing their jointly-developed prototype 8K device implies that the technology is not that far away from commercialization. In Japan, 8K UHD TVs may become available as early as in 2016, then it will take another year or more for other markets to get their first televisions with 7680*4320 resolution.
Apart from prototype 8K TVs, there are a lot of technologies ready for the new format. The HEVC (also known as H.265) codec supports the 7680*4320 resolution; NHK has developed special 8K cameras and Japanese consumer electronics producers, such as Fujitsu, JVC, Mitsubishi, Panasonic and Sharp, have designed some other gear needed for production, broadcasting and showcasing of video in 8K format. One thing that is currently missed is a new optical media format capable of storing UHD movies, but Sony and Panasonic are working on a new optical disc standard with recording capacity of at least 300GB; the specification should be ready by late 2015.
Mass availability of 4K and then 8K TVs and displays will greatly depend on the price of UHD panels. Once quality 4K screens hit mainstream price-points, the high-end of the market will likely move on to 8K. In order to lower costs of UHD panels, manufacturers will need to expand production of advanced panels that rely on such technologies as IGZO and OLED. Things have been improving for both types, but relatively slowly in the recent years.
KitGuru Says: It is noteworthy that the industry begins to demo 8K prototypes well ahead of mass adoption of 4K. Perhaps, eventually it will make sense to jump to 8K right from full HD and skip the 4K? Well, the TV broadcasters and Hollywood will probably have to say their word on this.