Samsung Electronics on Monday said that it had begun mass production of the world's first enterprise-class solid-state drive based on triple-level-cell NAND flash memory. The new SSDs combine affordable TLC NAND with enterprise-grade performance and reliability for the first time.
The number of erase/write cycles a TLC NAND flash cell can sustain is just about 1000, considerably less than 3000 – 10000 erase/write cycles sustained by multi-level cell NAND flash memory used in the vast majority NAND flash storage devices (such as SSDs). Consequently, in a bid to make TLC-based SSD a special controller and firmware design that balance performance, reliability and product life is needed.
Previously Samsung offered TLC NAND flash-based SSD for consumer applications. Using such memory type for enterprise-grade apps is a technological breakthrough.
The new PM853T SSD is available in capacities of 240GB, 480GB and 960GB. The drives are based on Samsung's TLC NAND flash made using 10nm-class process technology as well as the company's own controller and firmware. The drives features a sequential read speed of 530MB/s, while writing sequentially at 420MB/s. It also will read data randomly at 90 000 IOPS and handle sustained random writes at 14 000 IOPS.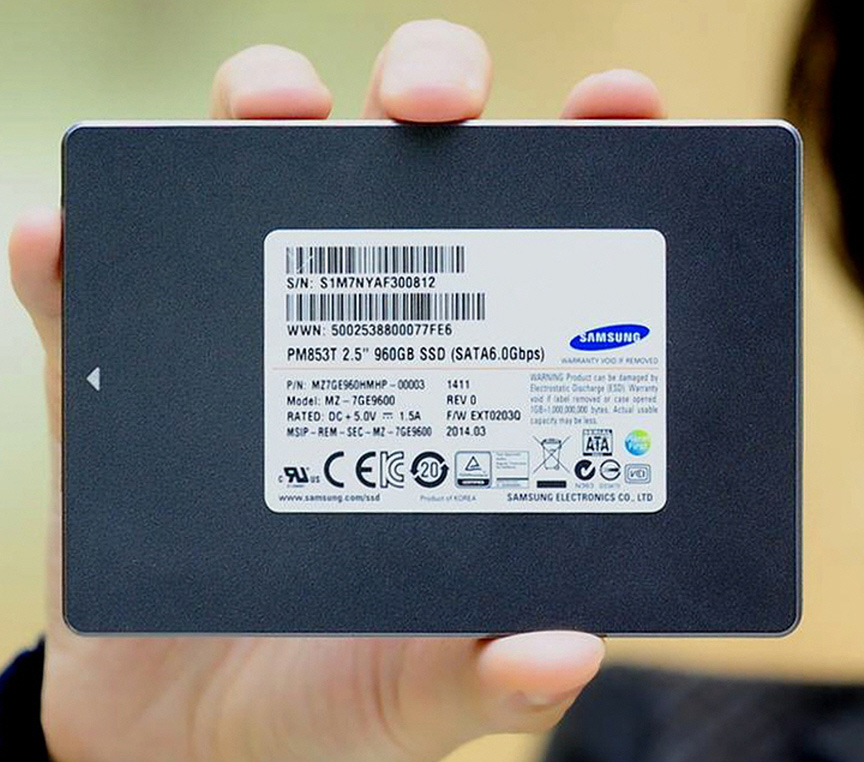 According to Samsung, the adoption of SSDs featuring 3bpc memory in data centers will advance rapidly in replacing the 2-bit SSD market. The PM853T SSD will enable IT managers to optimize their SSD upgrades at investment levels similar to those of consumer SSDs. The PM853T delivers a 30 percent increase in manufacturing efficiency compared to SSDs that use 2-bit NAND flash components, the company said.
"Following the last year's introduction of 3-bit NAND-based SSDs for PC markets, our new 3-bit SSD for data centers will help considerably in expanding the market base for SSDs," said Young-Hyun Jun, executive vice president, memory sales and marketing at Samsung Electronics. "We expect SSD market growth will gain momentum as this new SSD delivers significant improvements in data center investment efficiency, leading to full-fledged commercialization of SSDs in IT systems later this year."
According to a market research report from IHS iSuppli, the global SSD market is expected to grow approximately 30 percent from U.S. $9.4 billion in 2013 to U.S. $12.4 billion in 2014. The report says it will also maintain a high growth rate over the next several years, reaching up to U.S. $20 billion in 2017.
Discuss on our Facebook page, HERE.
KitGuru Says: It is remarkable how Samsung manages to remain ahead of the whole industry in adoption of TLC NAND flash memory. Some of Samsung's rivals have not even started to make consumer-class SSDs , whereas the South Korea-based conglomerate already mass-produces enterprise-class SSDs featuring the most cost-efficient NAND flash.