Although it is well known that the Serial ATA-6Gb/s interface does not allow modern high-performance solid-state drives to show their whole potential, the majority of PC makers and SSD manufacturers continue to use it due to cost and inventory management simplification reasons. However, a lot is going to change starting next year.
The majority of PC makers prefer to use Serial ATA-based SSDs due to a very simple reason: it is easier to manage inventory this way. If all storage devices use SATA interface, then it is easier for PC manufacturers to simply install SSDs instead of HDDs into models that need faster storage. Even at present it is possible to install SSDs with PCI Express 2.0 x2 interface (in M.2 form-factor) with up to 1GB/s bandwidth into a modern laptop platform without any problems. However, to simplify inventory management and designs, many platforms today simply do not support the M.2.

An SSD in M.2 form-factor
Controllers for solid-state drives that support PCI Express interface are also more expensive and less widespread than controllers supporting the Serial ATA-6Gb/s. As a result, SSD manufacturers choose SATA controllers instead of more advanced chips and the Serial ATA interface remains the default option for SSDs both on desktop and laptop markets despite of performance disadvantage.
At present only several notebook makers (including Apple MacBoook-series and select high-end models from other makers) use solid-state storage with the PCI Express interface, the majority continue to rely on rather outdated Serial ATA-based SSDs.
Next year the situation is going to change. Since the SATA Express interface will be officially supported by Intel Corp.'s 100-series chipsets, PC makers will demand SSDs supporting faster transfer rates. The SATAe and PCIe interfaces use the same protocol, therefore, controllers supporting the former also support the latter. Virtually all developers of SSD controllers will ship mainstream chips with PCI Express and SATA Express support in 2015. As a result, producers of solid-state drives will release new SSDs with faster interfaces based on new controllers.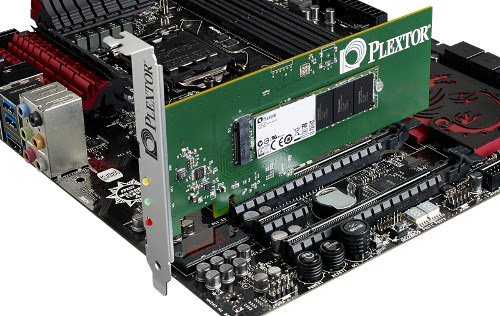 An PCIe SSD
Industry sources polled by DigiTimes believe that the penetration rate of SSDs in notebooks will reach 40 – 50 percent in the third quarter of 2015 from only 5 – 10 percent currently. Depending on the success of Intel's next-generation platform based on the code-named "Skylake" processors, which relies on 100-series chipsets, the adoption of SSDs with PCIe or SATAe will grow either rapidly or slowly.
Discuss on our Facebook page, HERE.
KitGuru Says: While the channel and PC enthusiasts will quickly adopt SATAe and PCI Express SSDs next year, provided that they are not over-priced, PC OEMs have a lot of their own concerns and it is hard to predict when they massively follow Apple with PCIe SSDs. High-end models will adopt advanced solid-state drives, but mainstream notebooks will continue to rely on SATA for quite a while.