Team Group is set to launch two new NVMe SSDs: the T-Force Cardea Zero Z330 and the T-Force Cardea Zero Z340. These are PCIe Gen3/NVMe 1.3  SSDs with high read and write speeds, and "patented graphene copper foil cooling modules" to prevent the drives from overheating.
According to Team Group, the Cardea Zero Z330 can reach continuous read speeds of up to 2100MB/s/220K IOPS and write speeds of up to 1700MB/s/200K IOPS (depending on the storage capacity), while the Cardea Zero Z340 continuous read and write speeds can reach up to 3400MB/s/450K IOPS and 3000MB/s/ 400K IOPS (depending on the storage capacity), respectively. Both the Z330 and the Z340 will be available with 1TB, 512GB, and 256GB storage capacities. The MTBF of the Z330 is about 1,500,000 hours, and the Z340's MTBF is about 2,000,000 hours.
Both models use Team Group's "patented graphene structure", which Team Group claims is able to deliver up to a 9% improvement in cooling performance after 3 hours of a continuous workload when measuring the surface's temperature, compared against the same SSD without the heatsink. On the other hand, the flash IC (integrated circuit) does run a little warmer with the heatsink.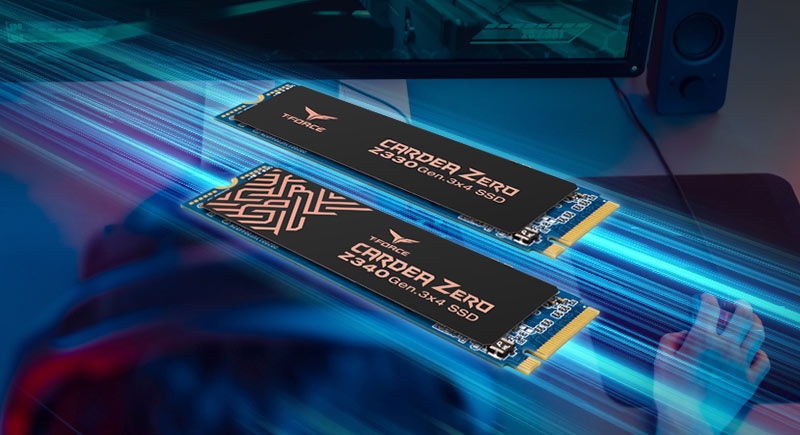 These SSDs support S.M.A.R.T. (Self-Monitoring, Analysis and Reporting Technology), TRIM command, LDPC ECC (Error-correcting code), E2E Data Protection, Global Wear Leveling, and more. Pricing and availability are not known yet.
You can learn more about the Team Group Cardea Zero Z330 HERE, and about the Team Group Cardea Zero Z340 HERE.
Discuss on our Facebook page HERE.
KitGuru says: Are you using NVMe storage in your PC? Would you fancy yourself one of these Cardea Zero SSDs?