Available with up to 2TB of storage, the new My Passport external SSDs from Western Digital are aimed at "consumers who need to accelerate their productivity and protect their valuable content". Featuring NVMe technology and a compact design, the new My Passport external SSDs are a stylish portable solution for your personal data.
Available with 500GB, 1TB, and 2TB storage capacities, the WD My Passport SSDs use NVMe technology to deliver fast data transfer speeds. With read speeds of up to 1050MB/s and write speeds of up to 1000MB/s, these SSDs use a USB-C Gen2 interface to transfer the content they store. There's a USB-C cable included and USB-A adaptor in case the device you want to connect lacks a USB-C port. This SSDs are plug-and-play when used on Mac and Windows.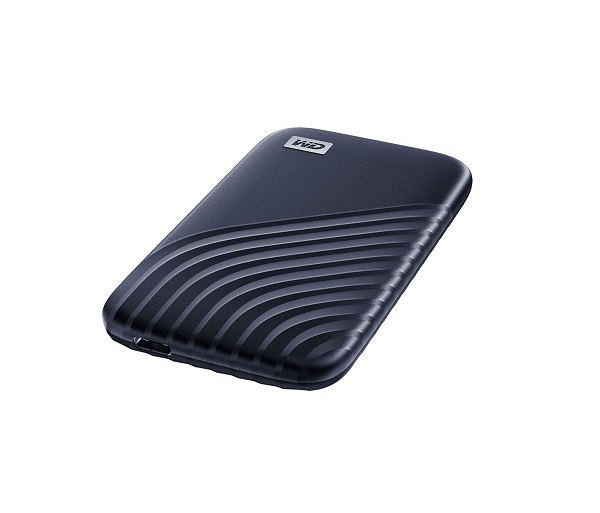 The My Passport external SSDs feature 256-bit AES hardware encryption for enhanced data security, and shock, vibration, and drop resistance (up to 1.98m) to prevent data loss in case an accident occurs. You can use WD's software to back up large files into your My Passport SSD or to WD's cloud service. The SDD's casing uses a bold metal design, making the My Passport external SSDs a portable, durable, and stylish device to carry your data. Perfectly sized to fit in a bag or pocket, these SSDs will be available in grey, blue, red and gold.
Susan Park, vice president of consumer solutions at Western Digital, stated that portability was taken into consideration when designing the SSD's case. The case's "rounded corners, waving ridges and soft edges enhance the My Passport SSD's portability and make it easy to carry", making it the perfect solution for everyday content creators, curators and hobbyists.
The WD My Passport SSDs with 500GB and 1TB capacities are available now and backed by a 5-year warranty. For now, theses SSDs will only be available in grey (other colours coming soon), priced at £136.99 for the 500GB model and £221.99 for the 1TB model. You can learn more about the new WD My Passport external SSDs HERE.
KitGuru says: Do you use an external SSD to transport data with you? What do you think about the new WD My Passport SSDs?