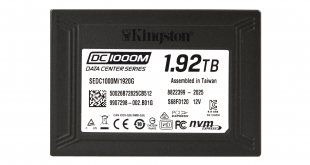 The DC1000M is the latest addition to Kingston's data centre SSD portfolio. Designed for dealing with mixed-use workloads, such as high-performance cloud servicing, web hosting, high-resolution media capture and transport and virtualisation, it features a U.2 connector and uses a 16-channel controller combined with 3D TLC NAND.
This SSD is available in four capacities at the time of writing; 960GB, 1.92TB (the drive we are reviewing here), 3.84TB and the huge 7.68TB flagship drive make up the DC1000M range. The DC1000M uses a Silicon Motion SM2270 16-channel controller which looks after Kioxia BiCS3 64-layer 3D TLC NAND.
Sequential read performance is the same for all four drives-up to 3,100MB/s while Sequential writes vary with capacity. The 960GB is rated up to 1,330MB/s, the 1.92TB 2,600MB/s, 3.84TB 2,700MB/s and up to 2,800MB/s for the 7.68TB drive.
Random 4K performance is quoted as up to 400,000 IOPS / 125,000 IOPS for read and writes respectively for the 960GB drive, up to 540,000 IOPS reads and 205,000 IOPS writes for the 1.92TB drive. The 3.84TB and 7.68TB drives share the same 210,000 IOPS write figure with the 3.84TB drive having a faster read speed at 525,000 IOPS over the 485,000 IOPS of the flagship drive.
As far as power consumption is concerned the 1.92TB drive is rated at 5.22W idle, 5.31W average read with a maximum of 5.70W. Average writes are rated at 13.1W with a 13.92W maximum.
Endurance wise, Kingston rate the 1.92TB drive at 3362TBW which works out at 1 Drive Write Per Day (DWPD) over the 5-year length of the drive's warranty.
Physical Specifications:
Usable Capacities: 1.92TB.
NAND Components: Kioxia BiCS3 64-layer 3D TLC.
NAND Controller: Silicon Motion SM2270.
Interface: U.2. PCIe NVMe Gen3 x4.
Form Factor: 2.5in, 15mm.
Dimensions: 100.09 x 69.84 x 14.75mm.
Drive Weight: 160g.
Firmware Version: S68F0120.
Be sure to check out our sponsors store EKWB here