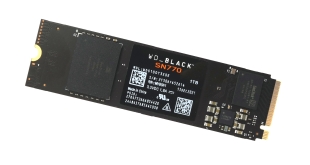 The latest addition to WD's Black gaming range of products is the Black SN770, a PCIe Gen 4 drive that uses a new controller and 112-layer TLC NAND. We put the 1TB model through its paces, priced at £142.99.
At launch, the WD Black SN770 range comprises four capacities; 250GB, 500GB, 1TB (the drive we are reviewing here) and the 2TB model. The drive uses a combination of a new 4-channel in-house controller, (details of which WD are keeping close to their chest) and 112-layer BiCS5 TLC NAND.
WD rate the 1TB drive for up to 5,150MB/s read and and up to 4,900MB/s write speeds. The 2TB model gets the same 5,150MB/s read figure with the 250GB and 500GB units rated at up to 4,000MB/s and 5,000MB/s respectively. As for sequential writes, the 2TB drive is quoted as up to 4,850MB/s, the 500GB model 4,000MB/s and the 250GB unit 2,000MB/s.
Random 4K performance is quoted as up to 740,000 IOPS and up to 800,000 IOPS for read and writes respectively for the 1TB Black SN770. The 500GB and 2TB drives get the same 800,000 IOPS write figure with the entry-level 250GB drive rated at up to 470,000 IOPS. The random 4K read ratings for the rest of the line-up are; 250GB 240,000 IOPS, 500GB 460,000 IOPS and 650,000 IOPS for the 2TB drive.
The endurance figure for the 1TB SN770 is 600TBW with the 250GB drive rated at 200TBW, the 500GB model 300TBW and 1200TBW for the 2TB drive. WD backs the drive range with a 5-year warranty.
Physical Specifications:
Usable Capacities: 1TB.
NAND Components: 112-layer BiCS5 TLC NAND.
NAND Controller: WD 4-channel.
Cache: none.
Interface: PCIe 4 Gen 4.
Form Factor: M.2, 2280
Dimensions: 80 x 22 x 2.38mm.
Weight: 5.5g.
Firmware Version: 731030WD
Be sure to check out our sponsors store EKWB here