USB 3.2 is becoming a common feature of the latest PC motherboard and case designs with manufacturers adding at least one Type-C port in new products. However, users with older motherboards and cases are unable to benefit from the higher bandwidth USB 3.2 provides.
Gigabyte has come up with a solution to that problem by introducing the world's first USB 3.2 Gen 2×2 PCIe expansion card. The new Gigabyte GC-USB 3.2 GEN2X2 PCIe x4 expansion card supports USB 3.2 Gen 2×2 for both Intel and AMD platforms. The GC-USB 3.2 GEN2X2 can deliver transfer speeds up to 20Gb/s, which is double that of the previous generation and offers users an affordable option to upgrade to the USB 3.2 gen 2×2 specification and USB Type-C connectivity, without having to purchase a new motherboard.
The Gigabyte GC-USB 3.2 GEN2X2 supports the full USB-IF 3.2 specification of twice the bandwidth of previous generations with full 20Gb/s transfer speed while being backwards compatible with USB 2.0/3.0 and 3.1. Manufactured to Gigabyte's Ultra Durable standard means the GC-USB 3.2 2×2 PCIe expansion card has been rigorously tested to ensure it delivers reliable performance with excellent value for money.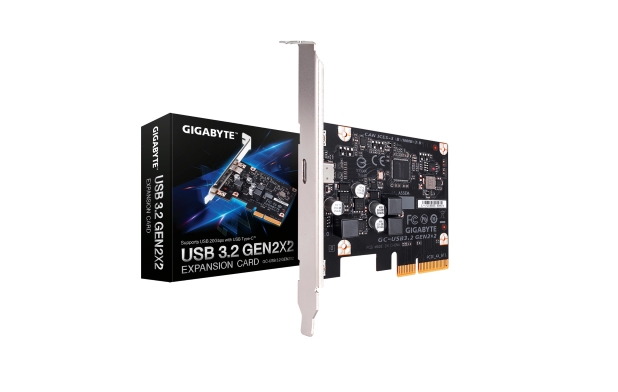 "Since the announcement of the USB 3.2 Gen 2×2 specification, we've been focused on developing a simple, effective solution for all users alike," said Jackson Hsu, Director of the GIGABYTE Product Development Division. "USB 3.2 Gen 2×2 and Thunderbolt 3 both use the USB Type-C slot but we cater to different needs. After close discussion with many experienced users, we've decided that the flagship board will support Thunderbolt 3 which delivers up to 40Gb/s transfer speeds while other products can be paired with the GC-USB 3.2 GEN2x2 PCIe Expansion Card to deliver 20Gbps blazing-fast USB Type-C transfer speeds."
Since the launch of the new PCIe USB 3.2 Gen 2×2 expansion card, Gigabyte claims the first 100 units have already sold out, with a further batch due to be released shortly.
Discuss on our Facebook page HERE.
KitGuru: Personally, I quite like the idea of this PCIe add-in card from Gigabyte as it offers users a cost-effective solution to upgrade older systems with new technology without having to splash out on an expensive motherboard or whole new platform.