If you're a VR fan with deep pockets, then likely you've gone back and forth in your mind about whether to pre-order an Oculus Rift or HTC Vive. Making that choice comes down to a lot of different factors, but one is whether you actually have the physical space for room-scale VR – but without the games, how do we know? Well now we do, as the physical specs for many of them have been unveiled.
All of this is possible because following the HTC Vive pre-orders opening up earlier this week, a number of compatible titles have appeared on Steam, giving us a much better idea of what we're going to play when our headsets arrive. That is of course if we aren't going to end up punching a wall when fully immersed.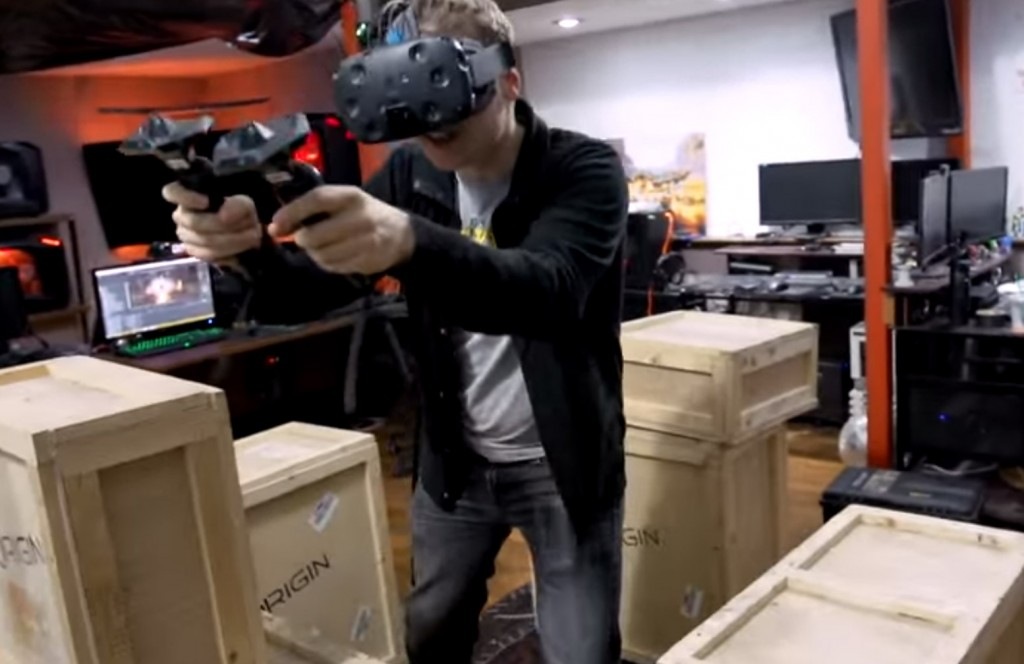 Fortunately it looks like almost everything requires just a minimum of two metres by two metres, which for most people should be doable, if not permanently, at least by sliding a sofa back a couple of feet. Here's the list of smaller space titles compiled by Redditor ShoneysBreakfast:
This list of games doesn't even require a couple of metres in each direction, which shows that it will be possible to play many Vive games as long as you have enough space to stand still and spin in a circle with arms outstretched. Better yet, two of them – Fantastic Contraption and Job Simulator – come free with the Vive, so you know you are getting at least two games that will work in small spaces right off of the bat.
There are games that need a little more space though, but even they don't push you beyond three metres by three metres:
[yframe url='http://www.youtube.com/watch?v=NixHENChoQ4′]
We also know from an earlier video, that Hover Junkers by Stress Level Zero, will require just enough space to stand still and point in any direction. That's thanks to its clever ship-designs, which come in many shapes and sizes, offering everyone, regardless of space, the chance to gun each other down in VR.
Discuss on our Facebook page, HERE.
KitGuru Says: There are also applications like TiltBrush which will likely infinitely scale depending on the space you have, but will work just fine standing still too.