Something that has been iterated upon time and again since the release of the consumer grade VR headsets, is the hardware and cabling needed to build a quick and easy station to demo games to people. Developers and hardware sellers alike may fall in love with Innoactive's VR Suitcase though, as it gives you everything you need in a micro-package.
One of the big difficulties with selling virtual reality to people, is that they need to try it to really understand it. That's why getting a headset on people's faces is so important, but that requires them coming to you, or you taking the hardware to them. In the case of the latter, a portable set up is required, which is where Innoactive's system comes in.
The VR Suitcase itself is a carry case which takes the Vive, laptop, accessories and controllers, and has a built in charging solution to keep those wands ready to go at all times. Along with the case you receive a VR ready laptop with a GTX 1060 included, for powering everything without a high drain on the battery life.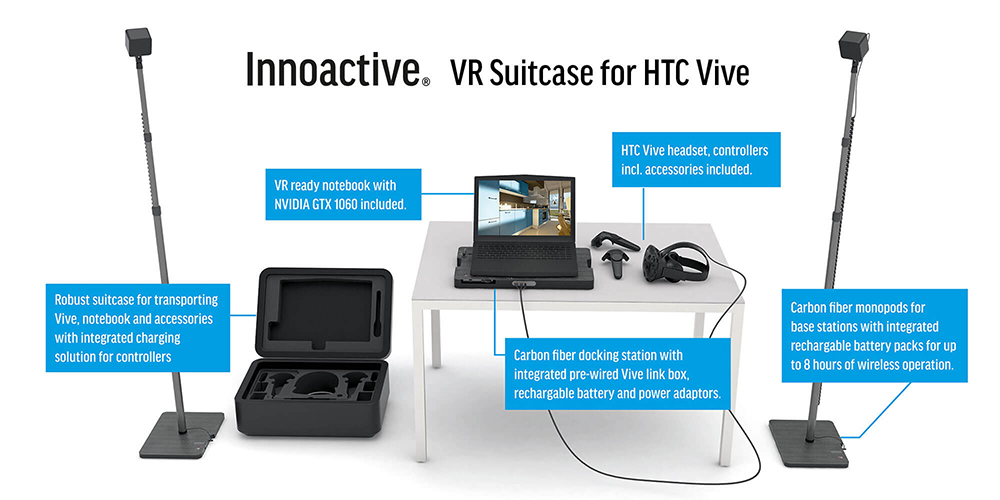 To improve upon that even more, the laptop comes equipped with a rechargeable base station with a lot of extra juice in it. The Vive link box is built in, reducing the number of required accessories and it's made of carbon fibre so isn't too heavy either.
You also receive a pair of carbon fibre monopods to attach the Lighthouse trackers to wherever you are. They have batteries built into their bases, so there is no need for extra power sockets, lasting up to eight hours at a time. You can even purchase this whole bundle with a HTC Vive and all its bits and bobs, so this really is a complete package for the intrepid VR demoer.
The only downside to it all really is that it's ungodly expensive. Aimed at businesses, Innoactive knows it doesn't have to be quite as competitive, so it's pricing this at 8,500 euro (£7,280). Considering the Vive itself is 'only' £750, that's quite a leap.
For that much you would expect something more akin to the GTX 1080 in the laptop, though that would likely draw more power.
Discuss on our Facebook page, HERE.
KitGuru Says: This seems like a far more expensive solution than should be required. You could build something yourself for much, much less. I wonder if it will become a popular solution though – it is rather slick.