As with many of the more niche games released in recent years, one of the ways that many people have experienced VR since the consumer release of the HTC Vive and Oculus Rift, has been through streaming. Now it's easier than ever, as Steam has been updated to allow VR broadcasting straight to your friends and family or the public.
VR broadcasting in Steam works much the same way as traditional viewing through the platform. You can invite friends or they can bug you to look in at what you're doing. It offers an in-game stream, a view of the actual controllers themselves and a chat window so you can interact with viewers if you want.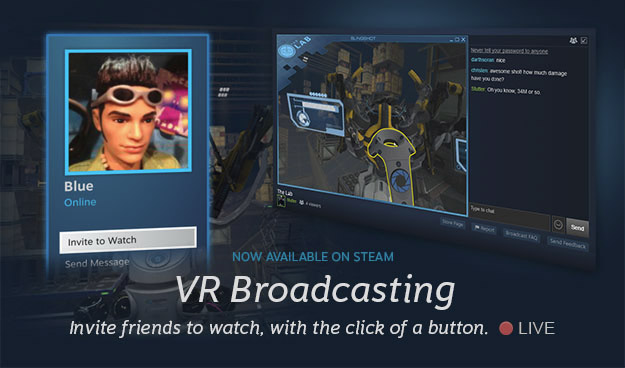 While it is unlikely to compete with Twitch in terms of viewer numbers any time soon, Steam Broadcasting can also be used to showcase content to the public, so the same is true of VR broadcasting. A quick adjustment of the settings means that anyone can view your stream if they want, or you can restrict it to certain groups or individuals.
Of course this isn't the best way to show off VR. It's best in person, but second best has to be these mixed reality trailers.
Discuss on our Facebook page, HERE.
KitGuru Says: Are there any games you guys would like to see streamed in VR? Perhaps I should whack the headset on and show you guys what we've been playing with lately.