It looks like Facebook is going to be much more involved with the ongoing Oculus VR experience moving forward, as with the latest 1.8 update for the headset's companion software and store, Facebook integration is possible. If you use it though, prepare for your VR skirts to be lifted.
If you agree to the Facebook Oculus integration, your username will become your real name, your Facebook friends will be able to see what your'e doing in VR and if they happen to get a headset too, they can search you out on Oculus's platform using your real name. It's an entirely optional function, but people are already worried about the privacy implication.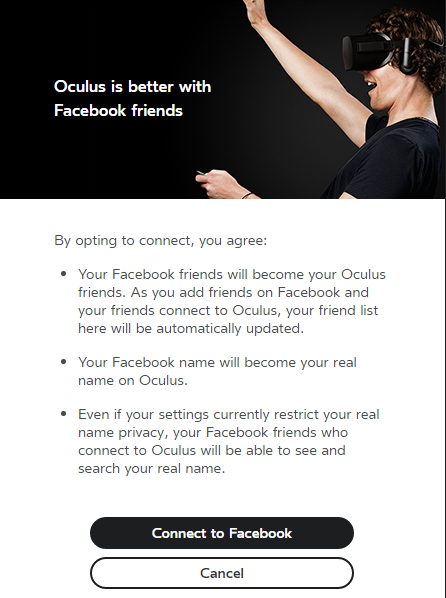 While the Facebook login is optional, what happens afterwards isn't. If you want to integrate with Facebook, you have to use your real name. You also have no choice but to add your Facebook friends to your Oculus friends list.
There isn't much nuance to it either. Ars reports that currently there is no way to filter friends who can see what you're doing, so if you want the option to let people see what you're playing, coworkers, parents and anyone else on your Facebook list will all be able to see it. You can turn that function off for all of them, but that's not very flexible.
This may raise questions about personal privacy and whether more data can be collected on the user if they integrate their Facebook account, since it merges the technologies together to some extent. Facebook has already received flak for its secretive data gathering on Oculus users, so this is unlikely to ease those concerns.
Discuss on our Facebook page, HERE.
KitGuru Says: This isn't surprising. I think we all knew that Facebook wanted to integrate itself deeply in Oculus VR. However, it does raise the question of whether this will mean Oculus dis aiming for a somewhat non-gamer, casual audience with its hardware, since Facebook isn't exactly the most hardcore gaming platform – even if just about everyone uses it for some reason or another.