Corsair Carbide Air 740 is a larger version of the £125 Carbide Air 540 that is taller, wider, deeper and comes with a cosmetically different front panel. Carbide Air 740 has a hinged main door with a huge clear side window that shows off the innards of your new PC for the world to admire. Or rather, the window shows off the main chamber while the untidy clutter is hidden away in the rear compartment.
This is the key to the Carbide Air series; you have two chambers with the motherboard, memory, graphics and CPU cooler on show in the main chamber while the power supply and storage drives are tucked away in the rear chamber along with most of the cables.
There are two new features in Carbide Air 740 that deserve some mention, although neither is likely to make you rush out to buy a new premium case. The first is the front blanking plate where a VR-friendly HDMI pass through will go, once it is made available by Corsair. And the second is an LED lighting button that can control the new Corsair HD120 RGB fans. You have to think of these as neat touches rather than a fundamental change of direction.
Specifications:
Motherboard support: ATX, Micro-ATX, Mini-ITX.
Expansion slots: 8.
Included fans: 2x 140mm front intake, 1x 140mm rear exhaust.
Fan mounts: 2x 140mm or 3x 120mm front, 2x 120/140mm roof, 1x 120/140mm rear, 2x 120/140mm floor.
120mm radiator mounts:  120mm/240mm/360mm front, 120mm/240mm roof, 120mm rear, 120mm/240mm floor.
140mm radiator mounts:  140mm/280mm front, 140mm/280mm roof, 140mm rear, 140mm/280mm floor.
5.25″ drive bays: None
Internal drive bays: 4x 2.5", 3x 3.5″.
Dimensions: 426mm H x 510mm D x 340mm W.
The bigger question is how you use all the space that is available inside the Air 740 and we cover this in some depth in our video. You could simply use an All In One cooler along with the three 140mm fans that come with the Air 740. No doubt that would suit Corsair perfectly well as they sell that type of cooler, however it seems a bit lightweight to our way of thinking.
Packing in a bunch of extra fans could look good, especially if they have LED lighting, and would remain true to the Air name. There is a snag with that approach as you need some way of connecting up the fans, such as a hub or controller.
Instead we chose to go for a custom cooling loop on the CPU along with a Sapphire Radeon R9 Fury X graphics card that comes with its own liquid cooling system which we mounted in the floor of the case.
As we discuss in the video, it worked out nicely mounting the Alphacool radiator in the roof with two 120mm Corsair ML fans, while one of the stock Corsair fans from the front was removed to make way for the EKWB pump/reservoir unit. In the event we had wanted to use a separate pump this might have proven tricky as there isn't a great deal of space in the rear compartment. Admittedly the Corsair AX1500i power supply we used is a biggy and we would have had to work hard to clear enough space to mount the pump.
Take a look at our video and photos and you will see the stripped chassis is a steel frame that is pretty much a cube. The panels that slide in place on the bottom, top, front and sides can be removed or installed in moments and you get the impression that changing part of the design would be both quick and easy. That planned HDMI pass through, for example, looks like a simple matter so we wonder why Corsair hasn't gone the whole hog and provided a Type-C USB port on the front panel.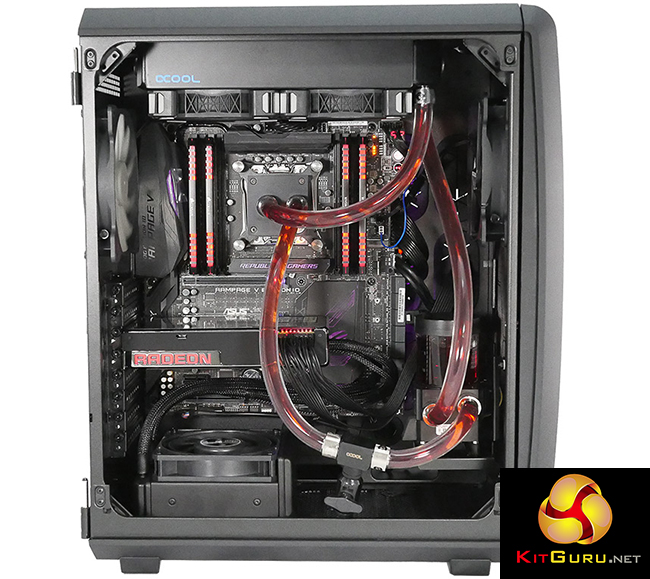 More importantly, you don't get a fan hub or controller. A high end motherboard may provide five fan headers. However, this case supports seven or eight fans, depending on the size of the fans (two 140mm at the front or three 120mm), and you need somewhere to connect them. The obvious solution is a fan controller in the rear compartment yet Corsair has not seen fit to provide one.
The second-most obvious solution is an after market controller that slips in a 5.25-inch optical drive bay, such as NZXT Sentry 3. The problem here, as you will have spotted, is that there is no optical drive bay. Corsair appears to have been on a mission to kill the external drive bay for some time and here they have succeeded. The point here is that you may indeed install a large number of fans but quite how you will connect them is a bit of a puzzle.
Installing the main components in the case is a doddle as the Air 740 supports a motherboard up to E-ATX, with graphics cards up to 370mm in length and a CPU cooler up to 170mm tall. To make life even easier, there are six large cable management grommets sitting between the two compartments to help you keep your build neat and tidy.
Testing
To put this case through its cooling paces we will be using a test system consisting of an Intel Core i7-5820K, Sapphire Radeon R9 Fury X and an SSD. This system allows us to produce a substantial amount of heat and effectively test the Corsair Carbide Air 740's cooling capabilities.
For stress testing we use AIDA64 to create the maximum heat output to stress our CPU and GPU.
Test System:
Processor: Intel Core i7-5820K
Motherboard: Asus Rampage V Edition 10
CPU cooler: Custom Alphacool and EK watercooling loop
Memory: 32GB Corsair Vengeance LED DDR4-3200MHz
Graphics card: Sapphire Radeon R9 Fury X
Power supply: Corsair AX1500i
Storage drive: 480GB Corsair Neutron XT SSD
OS: Windows 10
Cooling Performance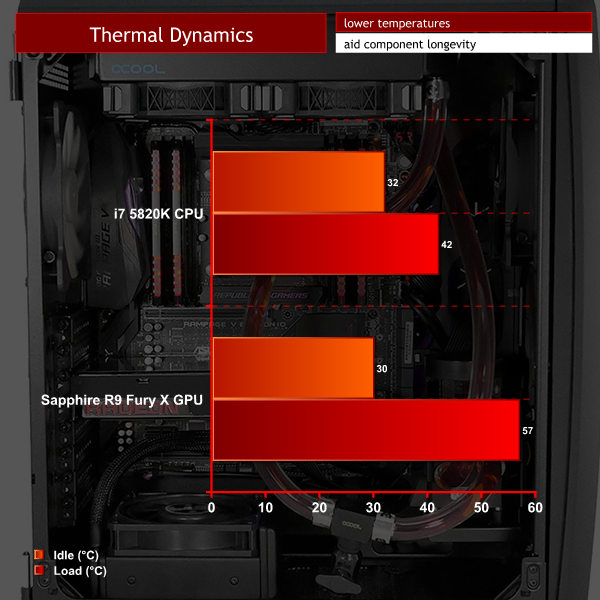 We are confident the Corsair Carbide Air 740 will work well with almost any hardware you choose to use. The case is heavily perforated and air flows well. Additionally, most of the obstructions such as the power supply and drives have been moved to the rear compartment. This only leaves the motherboard, CPU and graphics card(s) in the main compartment where they can benefit from as much air flow as you care to provide.
Those features all help cooling and the physical size of the case also plays a part as it is pretty darn large.
Cooling with the Carbide Air 740 simply isn't a problem.
Acoustics performance

Noise levels depend on the hardware you use. With our chosen set-up using Corsair ML fans on the Alphacool radiator, the CPU cooling was very quiet. Noise levels from the two stock fans were also low and the liquid-cooled Sapphire graphics card was also nice and quiet.
In the configuration you see in the video we have a quiet PC that delivers loads of performance.
On the other hand, if you use a Core i7-6700K with an All In One cooler you shouldn't be surprised if the Carbide Air 740 gets fairly noisy, especially if you indulge in overclocking. The point here is that the Carbide Air 740 has minimal noise deadening qualities. There is no extra material inside the side panels so you are relying on the front and top panels to provide some baffling to the air as it passes through the filters.
While this case can, as we have demonstrated, be nice and quiet it could just as easily be quite rackety.
Closing Thoughts
Corsair Carbide Air 740 uses a clever dual chamber design. Strip off the funky looking panels and you can see exactly how Corsair has constructed the chassis in a solid and fairly basic manner. On the subject of those panels, we like the way you can very quickly pull this case to pieces but we also make a prediction that they are going to require plenty of dusting. That's PLENTY of dusting.
The emphasis on air cooling starts with the name and continues with the massive number of fan mounts, finishing off with support for the new Corsair RGB fans. That approach is fine when you consider that Corsair also supplies a range of Hydro All In One liquid coolers so bingo, you've got masses of choices from the Corsair catalogue.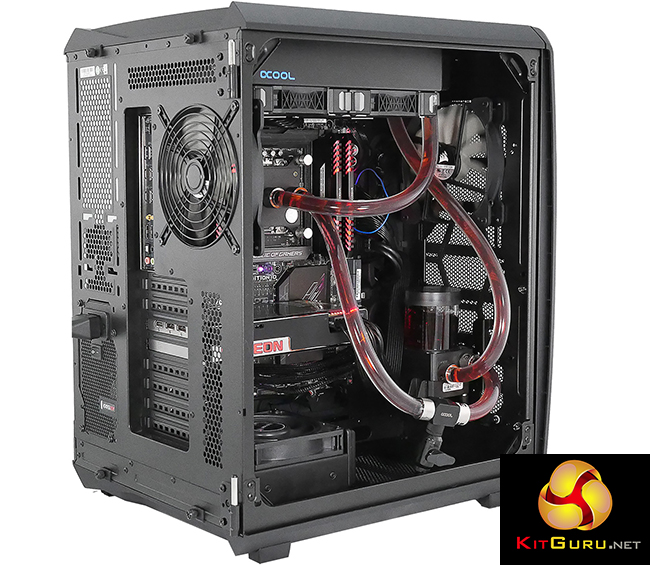 Nonetheless, this case looks to us like a natural candidate for a custom loop, in which instance you can expect lovely low temperatures. Corsair provides a decent number of storage drive bays, but no optical drive bay, and could really improve this model if they added a fan hub.
The only snag here is that Carbide Air 740 is so large that it is crying out for a custom loop and Corsair cannot provide you with that hardware. No doubt Corsair would say this means you have the choice of Corsair All In One, Corsair fans or some other make of hardware and that makes them jolly generous, and it is hard to disagree.

Also, and this feels like a common complaint with Corsair, the price of the Carbide Series Air 740 is rather high at £139.99 (inc. VAT).
This is an interesting case with a substantial footprint and there is no denying it catches the eye.
Discuss on our Facebook page, over HERE.
Pros:
Twin chamber design is great for air flow.
Main window looks superb.
Loads of options for mounting fans and radiators.
Supports Corsair RGB fans.
Cons:
This case is crying out for a fan hub.
Mounting a pump in the rear compartment is tricky.
Fairly expensive.
No 5.25″ drive bay
Substantial footprint requires plenty of desk space.
KitGuru says: Carbide Air 740 uses a dual chamber design to deliver huge air flow.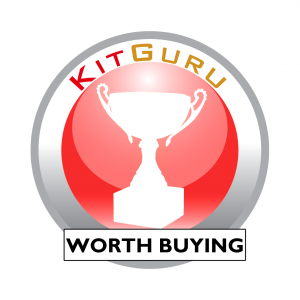 Be sure to check out our sponsors store EKWB here