As excited as people were for the launches of the HTC Vive and Oculus Rift this year, many found themselves put off by the higher than expected pricing. Since then, we have seen the launches of smartphone dependant VR headsets, but these are much more limited in functionality. However, Microsoft seems to have found a nice middle ground between the ultra-expensive and ultra-cheap, as the company announced that a range of Windows 10 VR headsets will be coming in 2017, starting at $299.
While Microsoft CEO, Satya Nadella recently expressed his fondness for augmented reality devices like the Hololens, The company is also planning to dabble in the virtual reality space. Today, during Microsoft's new Windows 10 event, the company announced that it has partnered up with the likes of Asus, Acer, Dell, HP and Lenovo to bring a range of Windows 10 VR headsets to the market next year.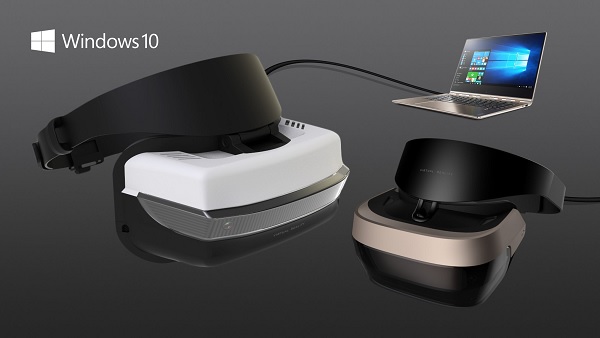 These headsets are being pitched as an affordable VR solution for PCs, with prices starting at $299, quite a bit less than the Oculus Rift ($599) and the HTC Vive ($799). However, these Windows 10 headsets do function slightly differently. For starters, they use an 'inside out' technique in which all of the required sensors are built into the headset itself.
This reduces complex setups and completely removes the need for a separate room for virtual reality. This also helps reduce cost, as well as system requirements. These headsets are primarily targeted for creative use, rather than gaming, so these headsets should be accessible to a lot more people as far as hardware requirements go.
Discuss on our Facebook page, HERE.
KitGuru Says: These headsets appear to take some inspiration from the PlayStation VR and Hololens. The front looks a lot like Microsoft's own Augmented Reality device but the mounting mechanism looks fairly similar to the one Sony is currently using for PSVR, which has been praised in reviews so far. The most exciting part of this announcement is that it helps reduce the barrier to entry for VR even further. It will certainly be interesting to see these headsets in action when the time comes.