At Oculus Connect this year, the company announced that it would be lowering the barrier to entry for virtual reality by implementing a technique called Asynchronous Spacewarp. This new technique extrapolates frames and lets VR titles render at 45Hz instead of 90Hz, while still pushing 90 frames per second through the headset using 'synthetic frames'.
This new Spacewarp system comes built into the Oculus API. It takes the two previous frames generated by software, calculates the difference and then creates a 'synthetic frame' based on spatial transformation, your current head position and movement. This technique essentially allows developers to have games run as low as 45 frames per second and have ASW create the synthetic frames in-between, thus pushing 90 frames per second through the headset for a smooth experience.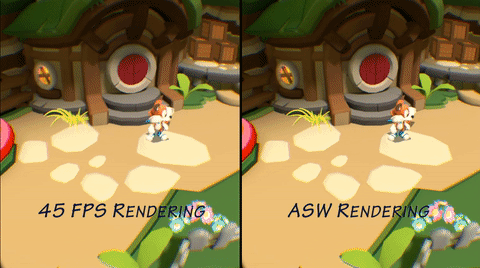 Image credit: Oculus
This won't matter much for high-end rigs, as these will be more than capable of running VR titles at full 90Hz anyway. However, this does mean that lower end systems can now power the Rift, with minimum system requirements now calling for an Intel Core i3-6100 or AMD FX-4350 processor, along with a GTX 960 or Radeon RX 470 GPU.
Previously, a pre-built system capable of powering an Oculus Rift would set you back around $1000, with the cost of the Rift on top of that. Now, a pre-built Oculus-Ready PC can be bought for just $500, and those capable of building their own rigs will be able to cut costs further.
KitGuru Says: Given how strict Oculus has been about its 90 frames per second requirement for VR, I doubt the company would be pushing Asynchronous Spacewarp out there if it didn't feel really close to having a game running natively at 90Hz. With this sort of technology lowering the barrier for VR, we may see the market start to grow a bit quicker.