Sales of Surface tablets in the second quarter of calendar 2014 (Q4 FY2014) were significantly lower compared to the previous quarter, according to Microsoft. At the same time, sales of the company's professional and media tablets in the fiscal 2014 were considerably higher compared to the Surface revenues a year before.
Microsoft Surface revenue for the fourth quarter of the company's fiscal 2014 was $409 million (£240.8 million, €303.7 million), down 18 per cent from the previous quarter and a dramatic drop from the Q2 FY2014. For the whole fiscal year, which ended on the 30th of June, 2014, sales of Microsoft Surface tablets totalled $2.196 billion (£2.2928 billion, €1.630 billion), which is substantially higher compared to the Surface revenue for FY2013 ($853 million).
It is unclear why sales of Microsoft Surface products dropped in the second quarter of calendar 2014. Traditionally, sales of PCs are higher in the second quarter compared to the first quarter.
Please note that Microsoft has never reported precise quarterly Surface revenue for the fiscal year 2013. The company only said that the full-year FY2013 Surface revenue was $853 million. In addition, Microsoft said in Q3 FY2014 that the Surface revenue was up 50 per cent to $494 million, which means that in Q3 FY2013 sales of the company's tablets were around $329 million. Therefore, the Surface revenue in Q2 FY2013 and Q4 FY2013 are estimates.
If average selling price of one Surface device is $550, then total sales of Surface devices during the fiscal 2014 were around four million units.
It is interesting to note that Microsoft confirmed in a filing with the SEC that it decided not to ship Surface mini media tablet based on the Windows RT operating system.
"Current year cost of revenue included Surface inventory adjustments resulting from our transition to newer generation devices and a decision to not ship a new form factor," the filing reads.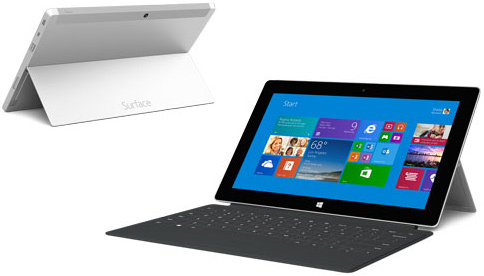 Microsoft did not comment on the news-story.
Discuss on our Facebook page, HERE.
KitGuru Says: While sales of Surface tablets are improving, they still remain on very low levels and are dramatically behind shipments of Apple iPads as well as slates based on the Google Android operating system. With the Surface 3 Pro it is evident that Microsoft can develop fine hardware. However, it looks like the reason behind poor sales of the Surface is not only hardware, but software and prices. It is completely unclear how Microsoft plans to change the situation.