Corsair has launched a new range of gaming PCs this week, the Vengeance series includes the a4100 and i4200 gaming PC systems with dazzling aesthetics and powerful gaming performance. Vengeance Gaming PCs are equipped with either AMD Ryzen 3000 or Intel 10th generation Core processors and Nvidia GeForce RTX graphics.
The Vengeance a4100 Gaming PC boasts a powerful AMD Ryzen 3700X processor, perfect for gaming and multi-threaded workloads, which makes it the ideal base for a gaming PC for users who want to game and stream simultaneously. In addition, the Vengeance a4100 is equipped with an Nvidia GeForce RTX 2070 Super graphics card, great for high FPS gaming with real-time ray tracing.
Corsair has also outfitted the Vengeance a4100 Gaming PC with an Elgato 4K60 PRO capture card – a first for a Corsair Vengeance Gaming PC, perfect for content creators looking for out of the box streaming and recording capabilities. The vengeance a4100 also includes 16GB Corsair Vengeance PRO 3200MHz DDR4 memory, a Corsair H60 all-in-one liquid CPU cooler and a Corsair RM750 80 PLUS Gold rated power supply.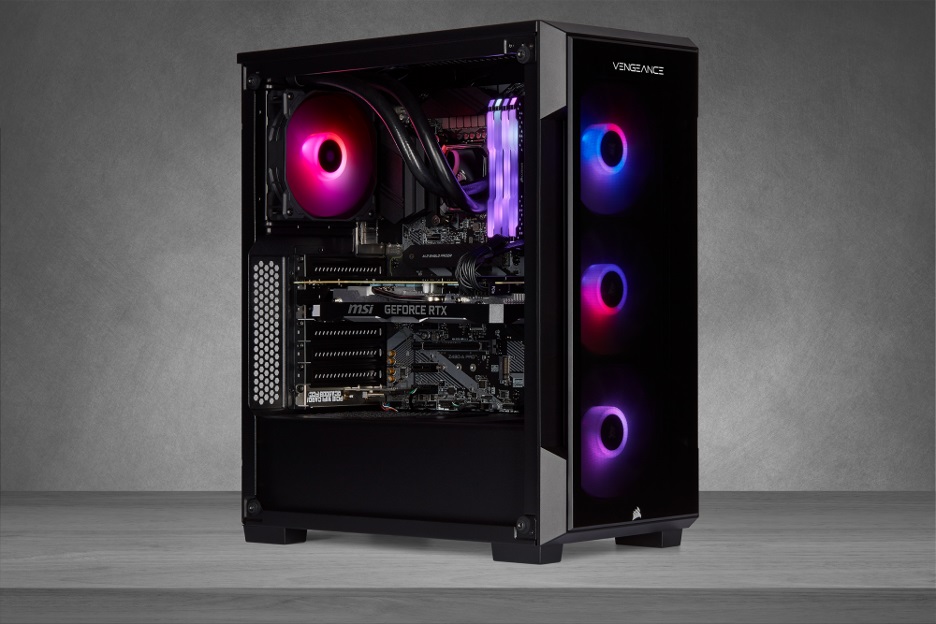 Vengeance i4200 series gaming PCs features Intel's latest 10th generation Core i7-10700K 8-core 16-thread CPU, with core boost frequency up to 5.1GHz. The Core i7-10700K is coupled with an Nvidia GeForce RTX 2080 Super graphics card and is available with a choice of either 16GB or 32GB 3200MHz Corsair vengeance PRO DDR4 memory configurations. A Corsair H60 liquid CPU cooler and RM750 power are used in the i4200 too.
Both systems are housed inside a Corsair iCUE 220T tempered glass chassis that perfectly showcases the built-in vibrant RGB LED lighting and the internal components. A total of 72 RGB LEDs inside the system can be configured and synchronised via the Corsair iCUE software, to customise the appearance to suit your own style. Corsair Vengeance Gaming PCs are available to purchase directly from the Corsair website with the a4100 priced at $1999.99 and the i4200 costing $2449.99.
Discuss on our Facebook page HERE.
KitGuru says: The Corsair Vengeance Gaming PC series should offer solid gaming performance while being highly capable multitasking workstation systems too. What do you guys think of these new gaming PCs from Corsair?