Ever wanted to play your favourite racing game, whilst sat in a true to life Formula one car? Of course you have, which is why you're going to be oh-so envious of anyone that buys this full size racing simulator from Costco, which literally builds a monstrous gaming desktop into a replica F1 car.
Featuring an eyefinity, triple monitor display, and packing in a triple-crossfire equipped, i7 running, SSD installed gaming rig, this "full size racing simulator," is designed to offer the closest gaming experience to the real thing. Made by FMCG, an F1 events company, the car is built to be as realistic as possible – at least on the surface – with carbon fibre detailing and the main body made from a high-quality composite alloy.
Everything is modelled on it too, despite the fact that it's all entirely redundant beyond making you feel immersed. There's wheels and tyres on the thing, as well as brake disks, a faux-gear box and engine.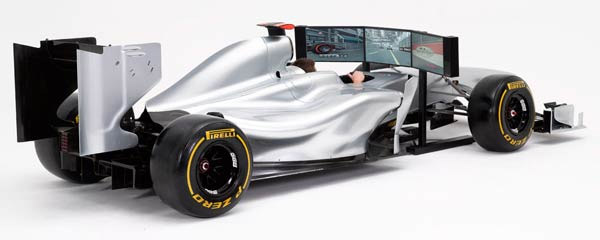 The steering wheel is real though, or at least, it's designed to visually match an F1 type wheel while hooked up the PC. However it's also been custom made to offer specialised force feedback, so you should really feel it when changing road surface. Likewise the pedals are also connected and designed to mirror F1 styling, as well as being adjustable for varied heights.
Built into the main frame as well, is a 5.1 surround system, with the sub woofer positioned right behind the driver to give added bass. However the display set up sounds a little disappointing. While there are three 23 inch TFT screens available, the specifications seem to suggest that they have an 8ms response time, which is too slow for some fast paced games and could lead to ghosting.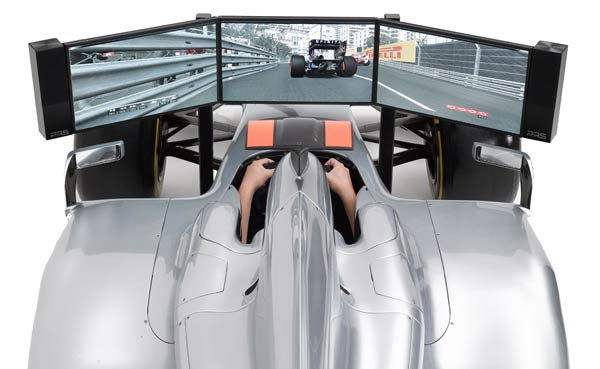 But hey, if you've got £90,000 to shell out, chances are you can afford a couple more to make some upgrades.
KitGuru Says: While this is a pretty epic build, I think I'd like to see some more simulation like controls. Still though, would be a great party piece to just roll this out half way through the evening.