Today marked my first experience building a high powered gaming PC! Will I succeed or will it all go up in smoke?
So, the guys at KitGuru had a special project for me, they were affectionately calling 'Project Storm'. Turns out I was to build my very first PC under the watchful eye of KitGuru Master, Leo.
Before I get into any of the specifics I want to reference this article by saying I have never built a PC, I know how to use one (obviously…arguably), but building one is another matter and through the day my knowledge about PC components, what they do and how they all work together grew exponentially.
It seemed like everyone was keen on 'Project Storm' as we received some amazing gear from the lovely folks at Corsair, OCUK, ASROCK and MSI who all pitched in to give me the best possible learning experience.
When I arrived at Leo's studio, there was a mountain of boxes waiting for me. Honestly, as my first experience, it was quite intimidating. Leo is a great teacher, he insisted on remaining hands off (for the most part anyway) so I could have the full experience myself, but at any point that I started to really struggle or was unsure of myself, he was always on hand to share his knowledge and steer me in the right direction.
I (we) built the system live on camera that day after arriving at Leo's studio and we recorded the whole thing from start to finish, making some edits to tighten it down a little – as there were some periods that would have been very dull to watch. At just over an hour and a half long now, we hope some of you manage to watch the whole thing!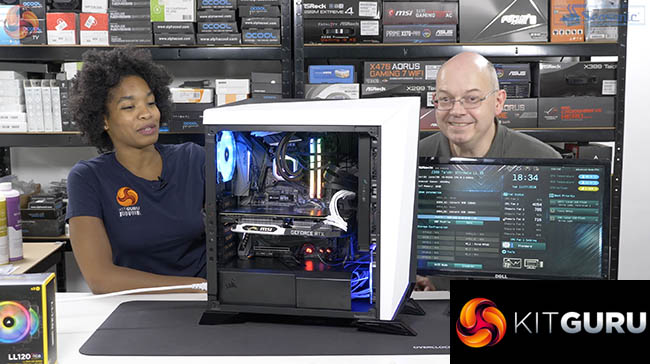 Cable management has never been my strong point, and we didn't want to delve too much into this in the video – as we have other videos on youtube showing some techniques for this, and it would have extended the video by another hour!  I suppose that will all come with practice though, you'll just know how most effectively to use the limited space that you're given.
I know RGB tends to split opinion, I personally really like it however at night it can be a little distracting when trying to work. Still, it can be pretty to look at when you are gaming!
Building your own computer is so incredibly personal, how you organise it, the parts you use, it is all going to be unique to you. If you have the means to be able to try, even with cheaper components I would recommend you give it a go, and maybe have Leo and me on in the background so you can build and learn as I did.
Thank you KitGuru, Leo, Corsair, OCUK, ASROCK and MSI for an incredible learning experience.

Special thanks to the lovely people at Corsair, OVERCLOCKERS UK, ASROCK and MSI for supplying the hardware for this video today.
Buy all the HARDWARE from Overclockers UK HERE
Core i9 9900k  (for 9900k deals) HERE and for the processor itself HERE.
Look out for the newest addition in my background in the near future!
This 'STORM' build is as follows;
CPU: Intel Core i9-9900K
Motherboard: ASRock Z390 Taichi Ultimate
Memory: 16GB Corsair Vengeance RGB Pro 3200MHz White
Graphics card: MSI RTX 2070 8GB Armor
SSD: Corsair Force MP510 960GB
Case: Corsair SPEC Omega RGB
Cooler: Corsair Hydro H100i RGB
Power supply: Corsair HX750i Platinum
Extra: Corsair Extension cables in white