Back at Computex 2016, we got our first look at 8Pack's latest creation, the OrionX, a crazy upcoming build featuring two high-end systems in one chassis, cherry picked processors with guaranteed overclockers and a ton of water cooling, all hand-built by the champion overclocker himself. Now, this system ready for buyers to get their hands on. Here is what £23,999.99 will get you…
Click images to enlarge.
Firstly, the 8Pack OrionX only uses the fastest components around, regardless of cost. For the case, you will be getting the Phanteks Enthoo Elite, which has been customised specifically for this project. On the inside you will find not one but two desktop systems, one using the X99 enthusiast platform and another using Intel's new Z270 Kaby Lake platform, so you can get the best of both worlds.
In the case of the full sized ATX X99 setup, you will get a hand picked Intel Core i7 6950x with a 4.4GHz minimum overclock. On the Mini-ITX Z270 side you will get an Intel Core i7 7700K with a 5.1Ghz minimum overclock. On the graphics side, you get three Nvidia Titan X Pascal graphics card in SLI on the X99 rig and one Titan X Pascal GPU for the Z270 rig.
From there, this system turns into the most complex cooling setup imaginable, with three full loops running through the system to deal with all of the heat. I'll let the guys over at Overclockers explain to you exactly how it works:
"To connect up these loops we knew we would have to do some pretty insane tubing. we would use pass-through plates made from polished acrylic to route the fluid around the walls and mid-plate of the case. Within these pass-through plates the fluid travels on several levels to create the ultimate look when illuminated. We have also added branding to the plates with the CPU loop travelling through an 8Pack logo in the IO side of the case and the ITX system fluid passing through an 8Pack logo which has been incorporated into the front of the case. The IO side of the case has never been used to carry fluid this way in any retail PC before. We have gone a step further, straight out of the gate by having a two layer pass-through allowing the GPU loop to run above the CPU loop. The GPU's being fed from the side instead of the usual underneath and the liquid appearing to zigzag across them."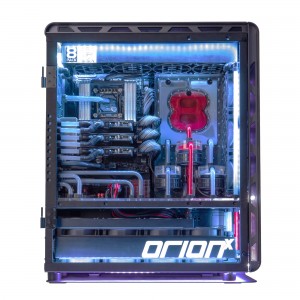 Here is the full specification for the OrionX:
X99:
Intel Core i7 6950X overclocked to at least 4.4GHz.
Motherboard: Asus Rampage V ED 10 Intel X99.
Memory: Corsair Dominator Platinum 64GB (8 x 8GB) at 2666MHz.
Graphics: 3 NVIDIA Titan X Pascal GPUs in Tri-SLI config with quad option available. Overclocked to 2000MHz+.
Primary SSD: Intel 750 1.2TB PCI-E NVMe SSD (watercooled).
Secondary SSDs: 2 Samsung 850 Pro 1TB SSDs in RAID 0 (2TB & double the speed).
HDD Storage: Seagate Barracuda 10TB HDD.
Z270:
Processor: Intel Core i7 7700K overclocked to at least 5.1GHz.
Motherboard: Asus ROG Strix Z270I Gaming.
Memory: Corsair Dominator Platinum 16GB (2 x 8GB) at 3200MHz.
Graphics: NVIDIA Titan X Pascal GPU.
Primary SSDs: 2 Samsung 960 Polaris 512GB NVME M.2 in RAID 0 (1TB & double the speed).
HDD Storage: Seagate Barracuda 10TB HDD.
Just to reiterate, this is a £23,999.99 rig, with two high-end gaming systems placed inside, with three water cooling loops running through it all. You are also paying for the cherry picked CPUs with guaranteed overclocks and of course, the hours of time and testing it would take to put a system like this together and ensure it is stable.
If you want to take a closer look at the OrionX and its configuration options, then you can do so, HERE.
KitGuru Says: Regardless of the cost involved, this is definitely one of the most impressive and complex builds I have seen, especially from a retailer. What do you guys think of 8Pack's OrionX?