Unless you're doing graphics work or gaming, you don't really need a giant computer in a box the size of a filing cabinet. In fact, you can get most things done with a system smaller than a hardback book. For lots of businesses, a neat little PC you can hide away or even attach to the back of a monitor is all you need. This is what the ASUS Mini PC PB60 aims to provide – desktop levels of performance in a tiny package.
The PB60 is just 175mm on each side, 34.2mm thick, and weighs a mere 1.19kg. Yet it can accommodate an Intel Core i3, i5, i7 or Pentium Gold processor and up to 32GB of RAM. Our sample came with the top option, an Intel Core i7 8700T, with 16GB of 2,400MHz DDR memory. That's six cores running at up to 4GHz in a box smaller than most notebooks. There's also space in the chassis for a 2.5in drive as well as M.2 storage, although our sample only came with the latter.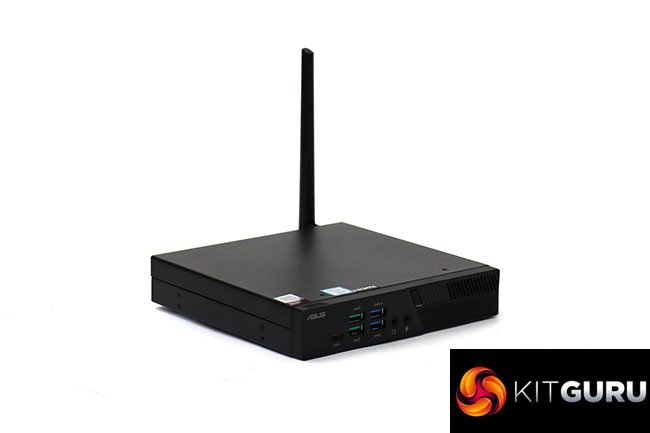 The chassis is brimming with external connectivity, with five USB ports on the front including USB C, plus analog audio. The rear has Gigabit Ethernet, three more USB ports, HDMI and DisplayPort, plus another connection that can be a number of different options but was a second DisplayPort on our sample. There's even built-in 802.11ac WiFi with an external aerial. One thing you don't get any space for inside a chassis this small is discrete graphics, so the PB60 relies in the Intel UHD Graphics 630 built into the processor.
You do pay a slight premium for having this much computing power and this many features in such a small box, with a price in excess of £800. A regular desktop for this price should be able to deliver a similar specification, plus reasonable discrete graphics. But it would be much, much larger, and if space is a premium in your office, the PB60 isn't so pricey to put most businesses off. Let's find out if the ASUS Mini PC PB60 is a case of the best things coming in small packages.
ASUS Mini PC PB60 Specifications (our sample):
Intel Core i7-8700T @ 2.4GHz
16GB DDR4 SDRAM @ 2,400MHz
Intel UHD 630 Graphics
256GB SK Hynix SC308 M.2 SATA SSD
Networking: Gigabit Ethernet, 802.11ac WiFi, Bluetooth v5.0
Front ports: 1 x USB 3.1 Gen1 Type C, 2 x USB 3.1 Gen1, 2 x USB 3.1 Gen 2, headphone, microphone
Rear ports: 1 x HDMI, 2 x DisplayPort, 1 x USB 3.1 Gen 2, 2 x USB 2.0, LAN
Dimensions (WxDxH): 175 x 175 x 34.2mm
Weight: 1.19kg
Windows 10 Professional 64bit
3 Years warranty
Price: £836.16
Be sure to check out our sponsors store EKWB here