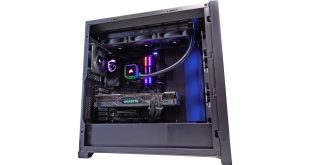 For a long time, the go-to solution when looking to get a new gaming PC was simply 'build your own'. That's not always the best route anymore however, with prebuilt options sometimes being better value and offering the peace of mind that a warranty provides. Today we're looking at the Ultra 79 XTX from Cyberpower, featuring a Ryzen 9 7900X3D and a Radeon RX 7900 XTX. Can it deliver both a great experience and great value for the £3249 price tag?
Watch video via Vimeo (below) or over on YouTube at 2160p HERE
Timestamps
00:00 Start
00:32 Price and key spec
01:31 CPU, GPU and memory
04:36 Motherboard / cooler (slight issue)
06:31 Single SSD, RM1000E PSU
07:43 Case and cable management
09:20 CPU/system benchmarks
12:21 Game benchmarks
15:11 Thermals, noise and power
17:15 Closing thoughts
The Ultra 79 XTX Gaming PC from Cyberpower is a high-end system aimed at those looking for serious gaming performance. With a price tag of £3249, it's certainly not a budget option. AMD components are used for both the CPU and GPU, what's more, the CPU on offer is the Ryzen 9 7900X3D with AMDs 3D V-cache technology. If the performance of the previous generation Ryzen 7 5800X3D is anything to go by, then we should see great gaming performance here too. Pairing the aforementioned CPU with the top of the line RX 7900 XTX graphics card, the Gigabyte Gaming OC model to be precise, should ensure that this system puts out some serious framerates while gaming.
Specifications
CASE: Corsair 5000X iCUE RGB Gaming Case – Black
CPU: AMD Ryzen 9 7900X3D
COOLER: Corsair iCUE H150i RGB ELITE 360mm Liquid Cooler
SSD: 2TB WD Black SN850X M.2 NVMe PCIe SSD
MEMORY: 32GB (2x16GB) DDR5/5600MHz Corsair Dominator Platinum RGB Memory
MOTHERBOARD: MSI MPG X670E CARBON WIFI
POWER SUPPLY: Corsair RM1000e 1000W 80+ Gold Modular Gaming Power Supply
VIDEO: AMD Radeon RX 7900 XTX 24GB
The design of the Ultra 79 XTX definitely has a gamer style, but it's classy and minimal, thanks to Cyberpower going with the black variant of the Corsair iCUE 5000x RGB case. It's offers full tempered glass with heavily tinted panels all around. Cyberpower have added some branding of their own to the front panel, in the form of their own logo in a small plaque just above the Corsair logo. Three RGB fans are included in the front of the case and can be controlled and synchronised with Corsair's iCUE software.
The cooler chosen by Cyberpower is the Corsair H150i RGB Elite 360mm AIO. The radiator has been mounted at the top of the case, with air being exhausted through the radiator with three non-RGB 120mm Corsair fans. The CPU block/pump is full RGB, however, and can be customised using Corsairs iCUE software. The cooler looks great overall but the inclusion of RGB fans by Corsair would help take it up a level.
The star of the show is the new Ryzen 9 7900X3D processor from AMD. It's sporting 12 cores and 24 threads running on AMDs Zen 4 architecture. The 7900X3D has a base clock speed of 4.4GHz and a boost clock of up to 5.6GHz and features AMDs 3D memory caching technology, which should ensure great gaming performance. 
The system is full team Red with the Gigabyte Radeon RX 7900 XTX Gaming OC GPU. This card features 24GB of GDDR6 memory and should have absolutely no issues smashing any game you throw at it. 
With the PC running both an AMD CPU and GPU, this should unlock the possibility of using AMD's Smart Access Memory technology, which basically just allows the CPU to directly address all of the memory found on the GPU – The same as enabling resizable BAR on an non-AMD exclusive system.
The memory found in the PC is Corsair Dominator Platinum RGB. This is of course DDR5, and is running at 5600MHz. One small point I do feel I have to raise though, is that we reckon it would have been better to drop the fancy RGB memory in favour of some faster 6000MHz RAM without RGB. While I appreciate that a lot of gamers do love a bit of flashy RGB, they also love frames per second.
I can't grumble too much though as CyberPower of course offer the ability to fully customise the PC on their website and you can opt for 32GB Corsair Vengeance RGB memory running at 6000MHz and you'll still get RGB for a very small increase in cost.
The motherboard chosen by Cyberpower is the MSI MPG X670E Carbon WiFi. This thing has got all the bells and whistles that make it a solid choice for a system like this. Obviously it's a DDR5 board, supporting up to 128GB of RAM in total. It has 4 M.2 slots, which will make adding in storage later down the line quite simple. It's got 5 case fan headers alongside the dedicated CPU and Pump fan headers. This is a decent amount that should have you covered if any extra fans were added. Also, this board looks great in my opinion. The shielding or 'armour' for the M.2 slots and VRMs looks really clean and just helps everything look tidy.
There's only one drive included in the system. It's the Western Digital 2TB SN850X M.2 SSD. Two terabytes is a fair amount of storage and should have you covered for installing a fair few games. The read and write speeds on this drive are plenty fast enough for everyday use and after installing the 10 games I used for benchmarking, I was left with plenty of space for other stuff. Plus, as I mentioned in the motherboard specs, it's easy enough to drop in some more storage later down the line if you want to.
Powering the PC is the Corsair RM1000e and as the name suggests, it's a 1000w unit with an 80+ Gold rating while also being fully modular. It's got enough juice to cope with the spec as it is right now and should be good for catering for any upgrades made to the system over the course of its lifetime. There isn't a native 12VHWR connector with this power supply, but Corsair do sell an adaptor for £20 that'll have you covered if you ever wanted to change GPU to a model that requires the new PCIe Gen5 connector.
Before we move on to look at how this system performed during our benchmarks, I just wanted to make a point of praising CyberPower PC on the excellent cable management. Everything is really tidy and the cable management options on offer from the Corsair 5000x RGB case have been used to their full potential. I was really pleased to see this as it's these little touches that add to the overall experience of buying a prebuilt gaming PC.
Be sure to check out our sponsors store EKWB here