At Microsoft's Windows 10 event last night, not only did the company unveil its plans to roll out a bunch of affordable Virtual Reality headsets, but it also announced the long-rumoured Surface all-in-one PC. It is called the Surface Studio and it features the "world's thinnest LCD monitor ever built", alongside  Nvidia graphics and an Intel processor.
The Surface Studio's 28-inch display runs at a 4500×3000 resolution at a 3:2 aspect ratio, which is fairly unusual. It also comes with different colour modes, namely DCI-P3 and sRGB for video or photo work. Another big feature of the Surface Studio is something called 'True Scale', which is supposed to make it so that "one inch on the display is one inch in real life".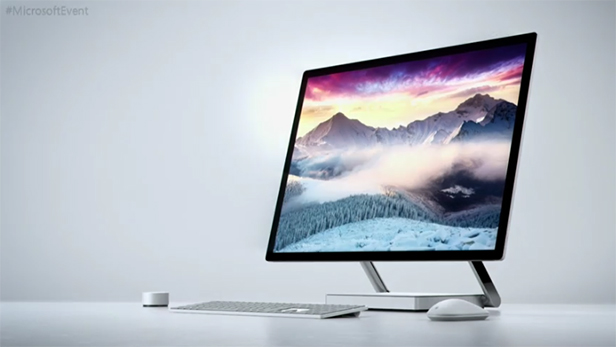 Under the hood, this all-in-one does pack quite a bit of power, with an Intel CPU, an Nvidia GTX 980m, 32GB of DDR4 RAM and a 2TB PCIe SSD. For connections, you get quite a few options including SD Card support, Ethernet, mini DisplayPort, and four USB 3.0 ports.
As you can tell from the name, this PC is intended for productivity and creative work. This isn't for the gamers out there, but it could be an attractive option for video editors, graphic designers or professional photographers. It comes at a price, though, with the first units expected to ship in mid-December for $2999 in the US.
KitGuru Says: The Surface Studio certainly wins some style points with its stand and high-resolution display. It packs quite a bit of power inside too considering the confined space. What do you guys think of Microsoft's latest system?