Zotac's Kaby Lake powered gaming series of Zbox mini-PCs from earlier this year were certainly impressive on paper but not everyone requires a GTX 1070 inside their palm-sized system. So to cater to those who perhaps don't need the gaming horsepower, this week Zotac is introducing the ZBox Nano, featuring Intel's Kaby Lake CPUs, up to 32GB of DDR4 RAM and more all inside of Zotac's smallest chassis yet.
If you're wondering just how small the ZBox Nano is, then here are the exact dimensions: 5.76 (H) x 4.98 (W) x 2.36 inches (D). For IO, the system carries dual ethernet ports, four USB 3.0 ports, DisplayPort and HDMI.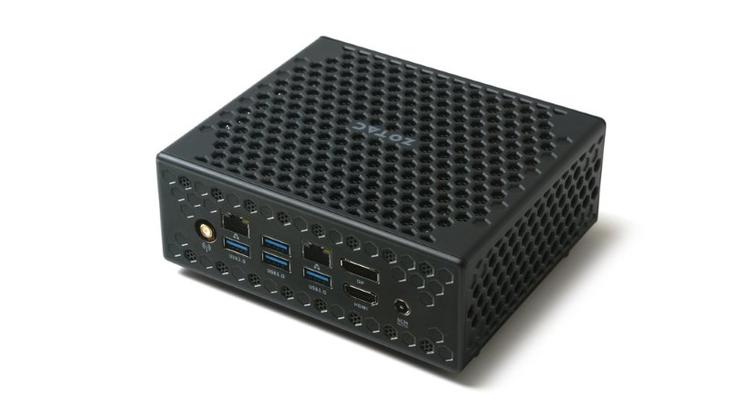 In terms of under the hood specifications, there are configurations with an Intel Core i5 7200U and an Intel Core i3 7100U depending on how much power you need. In both cases, Intel HD 620 graphics are used which is good enough for 4K resolution support but won't get you very far with GPU intensive workloads. Aside from that, there are two SODIMM DDR4 slots supporting up to 32GB of RAM at 2133MHz.
KitGuru Says: This system isn't quite as impressive as the ZBOX Magnus, which is just a tad bigger but packs a powerful graphics card. However, not everyone will need that sort of gaming horsepower, so it makes sense to offer something a little dialled back at a lower price.