Quantic Dream has been a relatively controversial studio in recent years – owing to alleged negative workplace conditions and the like – but it seems as though the company's most recent release is much less so, with Detroit: Become Human officially selling over 8 million copies.
Making the announcement via a press release, the French studio said "Quantic Dream, the award-winning studio at the forefront of interactive storytelling, is proud to announce today the enduring success of its video game Detroit: Become Human, which has surpassed the milestone of more than 2.5 million units sold on PC, accumulating over 8 million copies sold worldwide across all platforms (excluding copies obtained with subscription services)."
In discussing the game's success, Co-CEO of Quantic Dream 'Guillaume de Fondaumière' said "2022 was remarkable for QUANTIC DREAM. We achieved a significant increase in sales of our three historical PC games compared to 2021, an unusual phenomenon which builds on the already excellent sales results recorded in the previous three years."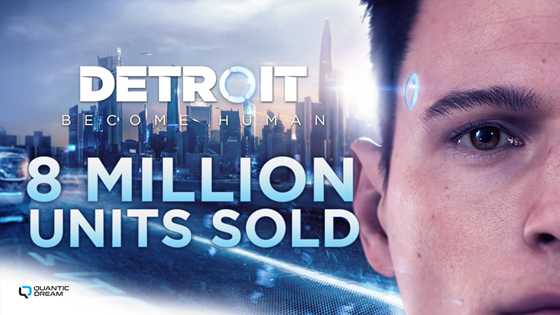 Fondaumière added: "The continued success of Detroit: Become Human, but also of Heavy Rain and Beyond: Two Souls, is due to the quality of these titles, their enduring appeal to PC gamers, as well as the thorough and long-term work of our Publishing team. We are delighted to introduce our works to an ever wider and younger audience, and on all continents."
In speaking specifically on the PC releases, the CEO concluded by saying "At the end of 2022, we also saw a record level of 'wishlisting' on these three titles, which gives us hope for an equally exceptional 2023."
It is interesting to see the slow yet steady sales seen by Detroit: Become Human – though considering the fact that the game first released all the way back in 2018 its continued success is no doubt a relief for Quantic Dream.
Discuss on our Facebook page HERE.
KitGuru says: What did you think of Detroit: Become Human? In what year did you play the game? Are you excited for Quantic Dream's next game? Let us know down below.