Every few weeks, Microsoft updates its Xbox Game Pass library with a dozen new games or so. While they have not yet announced the official list of upcoming titles, a new leak has now detailed Xbox Game Pass' upcoming lineup.
While they have yet to release an official list, Microsoft's "coming soon to Game Pass" image which they produce alongside each announcement, has been leaked early on Microsoft's website – all but confirming this list to be genuine.
With that, the list of games coming soon to Game Pass includes:
Danganronpa: Trigger Happy Havoc (Cloud + Console + PC)

Death's Door (Cloud + Console + PC)

HITMAN Trilogy (Cloud + Console + PC)

Nobody saves the World (Cloud + Console + PC)

Pupperazzi (Cloud + Console + PC)

Rainbow Six Extraction (Cloud + Console + PC)

Windjammers 2 (Cloud + Console + PC)

Taiko no Tatsujin: The DrumMaster (Console + PC)

Rainbow Six: Siege Deluxe Edition (PC)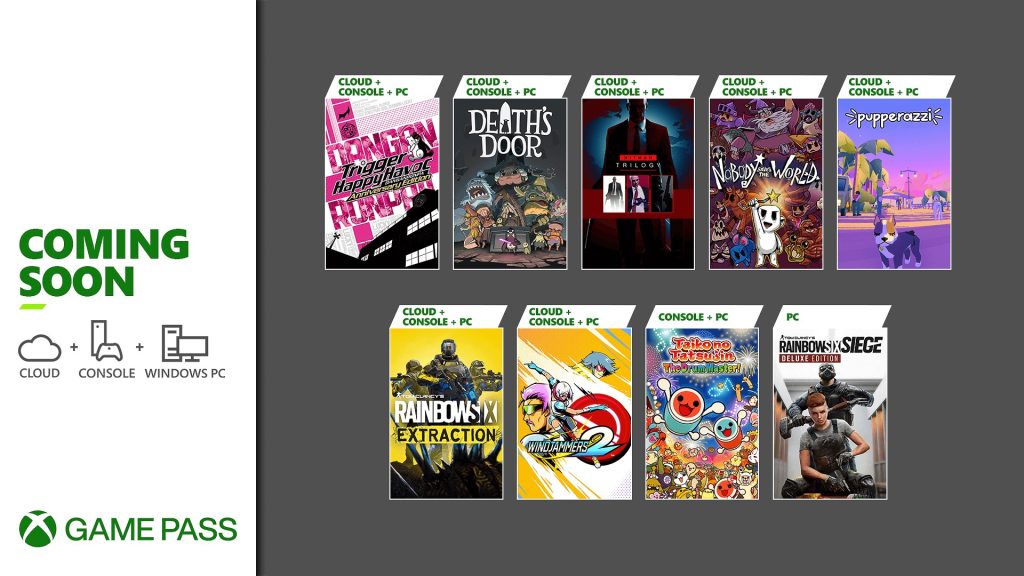 Of this list, we already knew that HITMAN, Rainbow Six Extraction and more were coming to Game Pass, however the addition of indie darling Death's Door, as well as Rainbow Six: Siege and Taiko no Tatsujin are all exciting additions.
With Microsoft recently announcing that they are acquiring Activision Blizzard for nearly $70 Billion, it will be interesting to see which games will be added to the service next month.
Discuss on our Facebook page HERE.
KitGuru says: What do you think of this line-up? What game are you most excited for? Which Activision Blizzard games do you want to see added? Let us know down below.