It might seem crazy and the data is coming from VGChartz – a somewhat untrustworthy source of data – so take it with a pinch of salt, but Forbes has it that the Wii U might be making its big come back, even outselling Microsoft's new Xbox One console in the week leading up to Christmas.
That's what the stats are saying at least, with the Xbox One supposedly shifting a total of 307,000 units in that seven day period, compared with 319,000 Wii Us. The PS4 comparably is said to have sold over 650,000, with its older brother, the PS3, shifting a still impressive 400,000 units.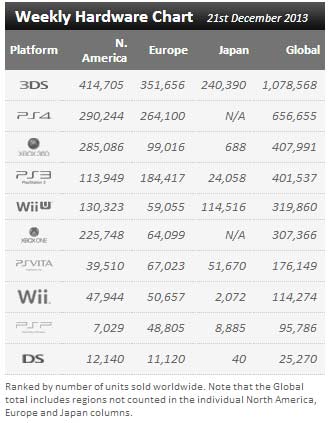 The big winner was the 3DS, with over a million sales in that one week, which itself is perhaps a prediction of how the Wii U will sell throughout its lifetime. Just like the gamepad equipped home console, the 3DS sold very poorly out of the gate, but as time went on and the game library improved, it's become the hottest selling console around (if you discount the launch windows of both new ones from Microsoft and Sony).
Granted the Wii U still has a long way to go if it wants to catch up to the 3DS. Even though outselling the Xbox Onee is impressive, it could be more telling of bad news for Microsoft than good news for Nintendo. The PS4 is still smashing both of them and 319,000 units is hardly explosive sales.
Some big games have landed for the Wii U recently though, including the very well received Zelda: Wind Waker HD and Super Mario 3D World. With games like Super Smash Bros Wii U still set to debut, it will be interesting to see what 2014 holds for the Nintendo machine.
KitGuru Says: My brother grabbed a Wii U last week and keeps bugging me to do so as well so we can play Monster Hunter Ultimate. I do want to but I spent my new-toy money on a Rift. I'm sure I'll get one soon though.