UK retailers are continuing to lower the price of Microsoft's Xbox One console in an effort to shift more units. The Xbox One had an official price cut a few months ago, bringing the price down to £350, matching the Playstation 4 and now UK based retailers are cutting the price down to £329, a full £100 less than Microsoft's launch price.
This does give the Xbox One a slight price advantage over the PS4 at some retailers, although as you would imagine, this price doesn't include any games or the Kinect at most stores. However, Amazon is currently selling the white Xbox One and Sunset Overdrive bundle for £329.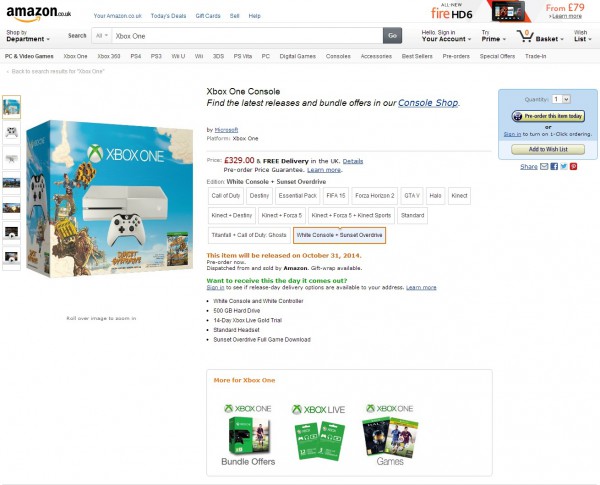 Microsoft hasn't made an official announcement regarding the price cut but Microsoft Studios Senior Producer, Nick Ferguson, did tweet about the new price point: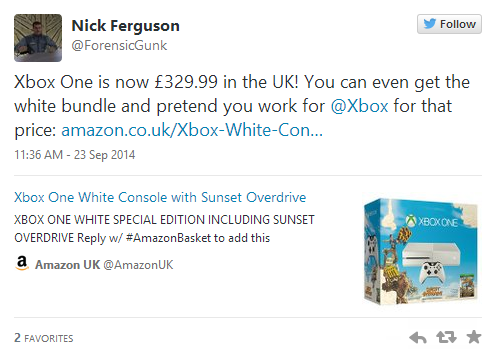 However, this tweet has since been removed, indicating that either this is in-fact an unofficial price cut or Microsoft isn't ready to announce it just yet.
The Xbox One originally launched last year for £429.99, the price was then cut to £399 just in time for the launch of Titanfall. Back in June, the Kinect was removed and the Xbox One price was once again cut to £350, allowing Microsoft to compete with the Playstation 4 at a similar price point.
GAME UK is also selling the Kinectless Xbox One for £329.99, although you're probably better off going with the Amazon deal, which includes Sunset Overdrive.
Discuss on our Facebook page, HERE.
KitGuru Says: The Xbox One needed to come down in price sooner or later, the PS4 is still the highest selling console world wide on a month to month basis and is often viewed as the more powerful option when compared to Microsoft's offering. Do any of you guys already own an Xbox One? Are there any console exclusives on the horizon that are tempting you in to picking up a new console?