Dota 2 has reworked its Ranked rewards scheme, bringing in Seasonal Rank Medals to replace its renown matchmaking rating (MMR) system. This new system is now live, as Valve kicked off the game's six-month Ranked Season yesterday.
The news was revealed over on Dota 2's official blog, attempting to reward player's skill levels based on "highest performance level for the current season," rather than what the player ends the season on. "A Seasonal Rank Medal never decreases in rank once you've achieved it. Initial calibration games will be seeded roughly based on your previous skill."
The ranks are split across seven different categories, Herald, Guardian, Crusader, Archon, Legend, Ancient, and Divine, each with five stars of progression before reaching the next tier, including a sixth '0 star'. These medals will be visible to all players before, during and after Ranked matches, being retired at the end of each season.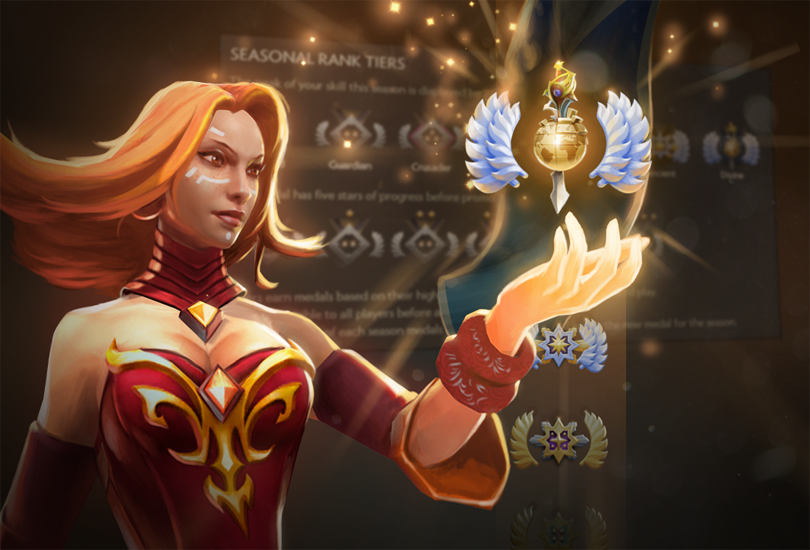 Ranks are still split between Party and Solo games, with the latter yielding more rewards given its harder nature.
"Your performance in both Party and Solo games is considered when evaluating your skill and determining when your Medal gets upgraded, with Solo games having a bigger impact. In order for players to achieve either the Ancient or Divine Medals, only Solo-game performance is considered.
"This update also expands the Leaderboard system to include many more players. Players with 5 stars on the Divine Rank Medal (the highest rank) will now have a leaderboard number listed with the medal that broadcasts their position amongst other players. This leaderboard position will always be displayed alongside the Medal, and will be visible to all players in the game and on your profile."
KitGuru Says: Highest achieved is a system that Rainbow Six Siege switched to in its first year in an attempt to get players to continue playing the game, as many were abandoning it to preserve their current high ranks. Despite Solo being inherently harder, I do find it odd that it would fragment the two highest Medals into the one category as it dissuades team play. Would it not be better to have separate medals entirely for each category? What do you think of the new system?