Toys-to-life figurines have had varying degrees of success. Whereas Disney Infinity and LEGO Dimensions have officially been discontinued, Nintendo's amiibo seems to be going stronger than ever; the latest of which comes in the form of a box of breakfast cereal.
Collaborating with Kellogg's, "Super Mario Cereal" contains a "mixed berry cereal with marshmallows." Of course, the marshmallows are shaped like signature Mario items, such as the Super Mushroom, 1UP Mushrooms and Boxes we've all come to recgonise over the years.
The box itself is particularly special, acting as a special amiibo to be used within Super Mario Oddyssey.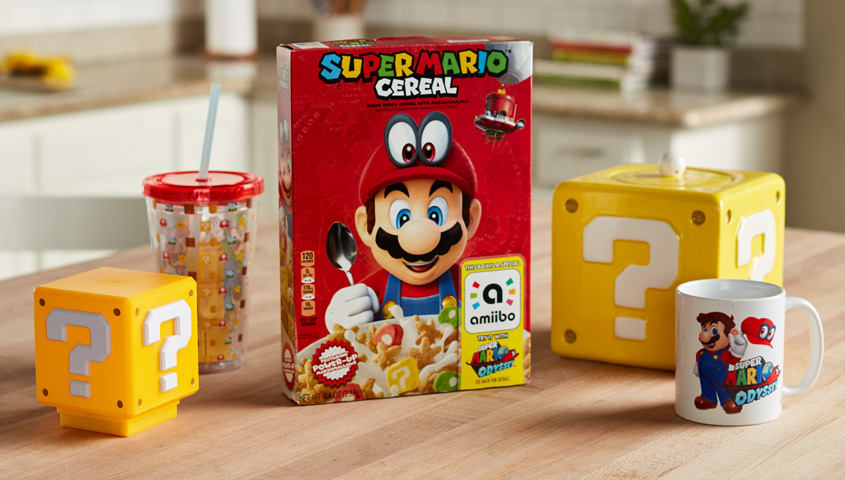 To those in the US, this sounds an awful lot like Mario-branded Lucky Charms, and it practically is, even down to the US-exclusivity. Yes, I know, the United Kingdom has had stints of selling it over the years but Lucky Charms are usually hard to find nonetheless.
Easing the mind of international fans of Nintendo's toys-to-life service, you're not actually missing out on that much. Nintendo has revealed the functionality to endow players with extra coins or hearts, similar to already-existing non-Super Mario Odyssey amiibos out there.
Nintendo has announced that the cereal launches on December 11th in the US, and while it doesn't mention a limited run, licenced food products tend not to stick around for too long.
KitGuru Says: While I'd usually be put off by a cereal promoted by a (former) plumber, it does sound rather tasty. Does anyone here plan on getting a box of Super Mario Cereal?