Early physical copies of Red Dead Redemption 2 reveal that Rockstar will likely be shipping the game with two discs in the box. Although this has garnered some criticism from fans that believe it to be a step backwards, this is perhaps the best way to launch a game that supposedly breaches 100GB installation.
Two-disc setups harken back to the days of the original PlayStation, where the limited space of the archaic discs simply couldn't contain the amount of data required to play the likes of Metal Gear Solid or Final Fantasy. This is similar, in principle, given that Red Dead Redemption 2 is about to set a new precedent in game size.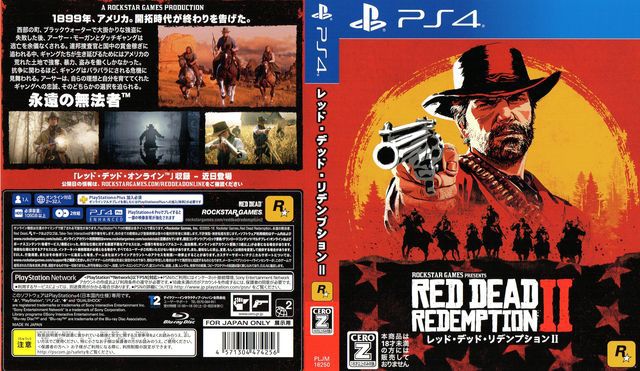 The first indication of Rockstar adding a second disc comes from leaked Japanese box art, showcased by GamesTalk.net. On the back of the case, tucked into the key below the core synopsis is a blue box that distinctly displays two discs.
This has since been followed with a leak from YouTuber Kofi on his official Twitter page. Giving a close-up of each Blu-ray, Kofi explains that one is specifically a "Data Disc" meant to install the game and the other is a "Play Disc" required to, well, play the game.
Last thing I'm going to speak on since people are just dying to know. Red Dead Redemption 2 does have a double disc. The first disc is a "Data Disc" and the second is a "Play Disc". Probably have to just install first disc. Game does come with a map which I will not share. pic.twitter.com/VnIq2HF8zf

— KOFI (@PressStartKofi) October 19, 2018
Given that requirements list a whopping 99GB of space for PlayStation 4 players and a larger 107GB of installation space for those on Xbox One, two discs is hardly a surprise. Blu-ray's 50GB limitation would have seen a hefty day-one download, which would have left fans waiting anywhere from hours to weeks depending on their home internet situation.
Much of this space is expected to be taken up by the highly detailed map, which has fortunately been kept under wraps. We won't find out, however, until Red Dead Redemption 2 launches on October 26th for PlayStation 4 and Xbox One.
KitGuru Says: Console installation should be quicker than the majority of people's internet speeds, so this is likely to be a good thing in most cases. At the very least, thanks to game installation, players won't have to swap between discs mid-way through playing. Are you excited for Red Dead Redemption 2?