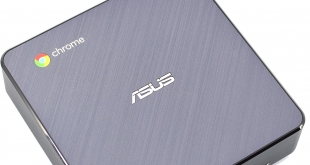 I am sure many of our readers are familiar with ASUS motherboards and graphics cards. You might be less familiar with their Chromebox lineup – a range of mini-PCs that run ChromeOS, not Windows. The latest addition to this family is the Chromebox 3, and today we take a look at the base model packing in a Celeron 3865U, 4GB RAM and 32GB of storage. Is it worth the £250 asking price?
Watch via our Vimeo channel (below) or over on YouTube at 2160p HERE
Note: if the above gallery is not displaying properly, you may need to disable your ad block software as it can interfere with our display code.
Specification
Operating System: Chrome OS
CPU: Intel® Celeron 3865U Processor
Integrated Graphic: Intel® HD Graphics 620
Memory: 4 GB SO-DIMM DDR4 at 2400 MHz
Storage: M.2 32GB
Wireless Data Network: 802.11 a/b/g/n/ac, Bluetooth V4.2
LAN: 10/100/1000 Mbps
Side I/O Ports: 1 x Kensington Lock
Front I/O Ports: 1 x 3 -in-1 Card Reader, 2x USB 3.1 Gen 1, 1 x Audio jack
Back I/O Ports: 1 x USB 3.1 Gen 1, 2x USB 2.0, 1 x USB 3.1 Gen 1 Type-C , 1 x HDMI, 1 x RJ45 LAN, 1 x DC-in
Power Supply: 65 W Power adapter
Dimensions: 148.5 x 148.5 x 40 mm (WxDxH)
Weight: 1 kg
Accessories: AC Adaptor, Power Cord, Warranty Card, Quick Manual, VESA Mount Kit
If you've never used a Chromebox before – or a Chromebook for that matter – ChromeOS is a very lightweight operating system that is really just built around Google Chrome. You only get 32GB of internal storage with this machine (although you can stick in a microSD card to increase this further) but the idea is everything is stored in the cloud, so you don't need tonnes of space available locally.
Its likely by this point you've rolled your eyes and thought 'a Celeron?!' It's got to be so slow,' and if this were a Windows PC, you would probably be right. The thing is, to run what is essentially a slightly more fleshed-out version of the Chrome browser, you really don't need that much power. This Chromebox had no problem switching between several open tabs, playing 4K video and executing simple tasks like emailing or word processing.
The thing with the Chromebox 3, is that it is really aimed at people who don't need to do much on their PC. Schools and businesses, for instance, who just need a small and cheap machine – that can even be VESA mounted to the back of your monitor – to run everyday tasks will find a lot to like here. It's obviously not for the professional video editor or hardcore gamer – that misses the point.
Still, it's not quite perfect. Since ChromeOS uses the same Play Store as Android phones, all the apps are the same. While that sounds great, we did find some apps struggled when run from a desktop – things like Spotify have clearly been optimised for mobile use, not for use on a monitor, and that can occasionally cause issues.
On the whole, though, this is a very quiet and dare I say cute little system that would be perfect for your grandparents or anyone just looking for an easy way to get onto the web. It's not big or flashy or anything that's going to grab people's attention when they walk into the room, but for the target audience the ASUS Chromebox 3 is aimed at, it will do very nicely.
You can buy this Celeron model for £252.99 inc vat HERE (from ebuyer).
Pros
Small and sleek.
Easy to setup.
Nice and nippy in operation.
4K video plays without a hitch.
Affordable.
VESA mounting kit included.
Cons
Not all apps are optimised for desktop use.
ChromeOS – by its very nature – won't appeal to everyone.
KitGuru says: It's hard to get truly excited by a Chromebox, but the ASUS Chromebox 3 is a very good little machine if you just want to run some basic web-based tasks.
Be sure to check out our sponsors store EKWB here