Swatting isn't a new process in the streaming world. In fact, it's been a punishable offense for quite some time, not just by Twitch, but by law as a waste of police time. Unfortunately, this holiday season hasn't been kind to one family, who have tragically lost 28-year-old, father-of-two Andrew Finch, who was shot dead at his front door.
The process of swatting involves a hoax emergency call directed to a targeted address, prompting armed forces to arrive on site in a very alert state. Often this results in minor property damage upon entry, mixed with disgruntled police and a shocked family on the receiving end.
Perpetrator, Tyler Barriss' call was made public following the incident, in which the man can be heard claiming that he has shot his father dead and taken his remaining family hostage. Alongside the supposed handgun used to facilitate the claimed murder, Barriss continued to threaten to burn the house down with gasoline he had apparently poured over the house prior to the call.
The following is a the 911 audio and video of the officer involved shooting we release today during our press conference, please be advised the following video contains graphic content, viewer discretion is advised.

Posted by Wichita Police Department on Friday, 29 December 2017
The call made to the Witchita Police Department. Some might find the above audio distressing.
Arriving at the scene, the swat team was prepared for the worst of hostage situations, and responded in the according manner, releasing just one round after victim Finch reportedly failed to comply with verbal orders to keep his hands above his head. Police found that Finch was unarmed, and inside were four family members, healthy and not at all in harm's way as suggested.
The hoax apparently arose over a dispute between three gamers playing Call of Duty online who were reportedly gambling as little as $1.50/£1.10 on a match. One player involved in the argument, "Miruhcle," passed Finch's address off as his own, antagonising the second and third player, "Baperizer" and "Swautistic," into doing something. The latter then used this address with a third party swatting facility.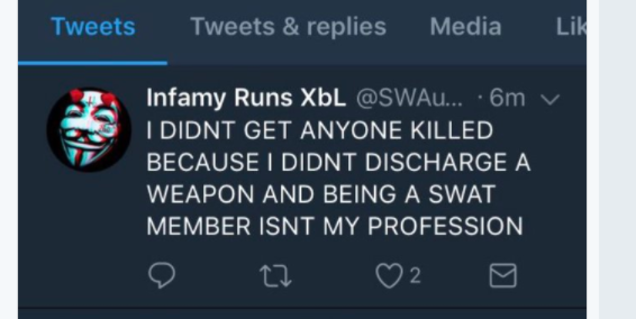 Barriss has a history with crime, local reports say, once being charged for threatening a local television station with a bomb back in 2015. It is currently unconfirmed as to which of the latter two handles belongs to Barriss, however shortly before his arrest, Swautistic posted up a tweet denying any responsibility for the actions taken by the swat team. While all Twitter accounts involved have been suspended, this screenshot by Mattcarries is still circulating.
KitGuru Says: This isn't the first fatal incident of a swatting and, unfortunately, it likely isn't going to be the last. It's atrocious that someone could be so thoughtless, and claim deniability to what is quite obviously manslaughter at the very least. Personally, I think the person who gave the false address is also responsible and should receive punishment for provoking the situation. What do you think about swatting and this incident that took place late 2017?