UL Benchmarks has recently announced the Wild Life Extreme benchmark, a more demanding version of the Wild Life benchmark. Unlike Wild Life, the Extreme version won't be limited to smartphones and tablets, allowing users to run it on Apple computers with M1 CPUs and Windows 10 PCs, including those powered by Arm processors.
The new Wild Life Extreme benchmark is three times more demanding than the original Wild Life benchmark thanks to the addition of new effects, enhanced geometry, and more particles. Moreover, Wild Life Extreme can run at up to 4K resolution, making it even more demanding. On Windows and Android, the Wild Life Extreme benchmark uses the Vulkan API, but Windows 10 on Arm devices use DirectX 12. On Apple devices, the benchmark uses the Metal API.
With the Wild Life Extreme benchmark, users may compare the GPU performance across most of their devices. The higher the score, the better it performs. Users may choose the quick benchmark to measure peak performance or a longer one for testing sustained performance. Besides showing how your GPU performs against other machines and devices, the 3DMark Wild Life Extreme score can also predict the framerate your system will output in some games.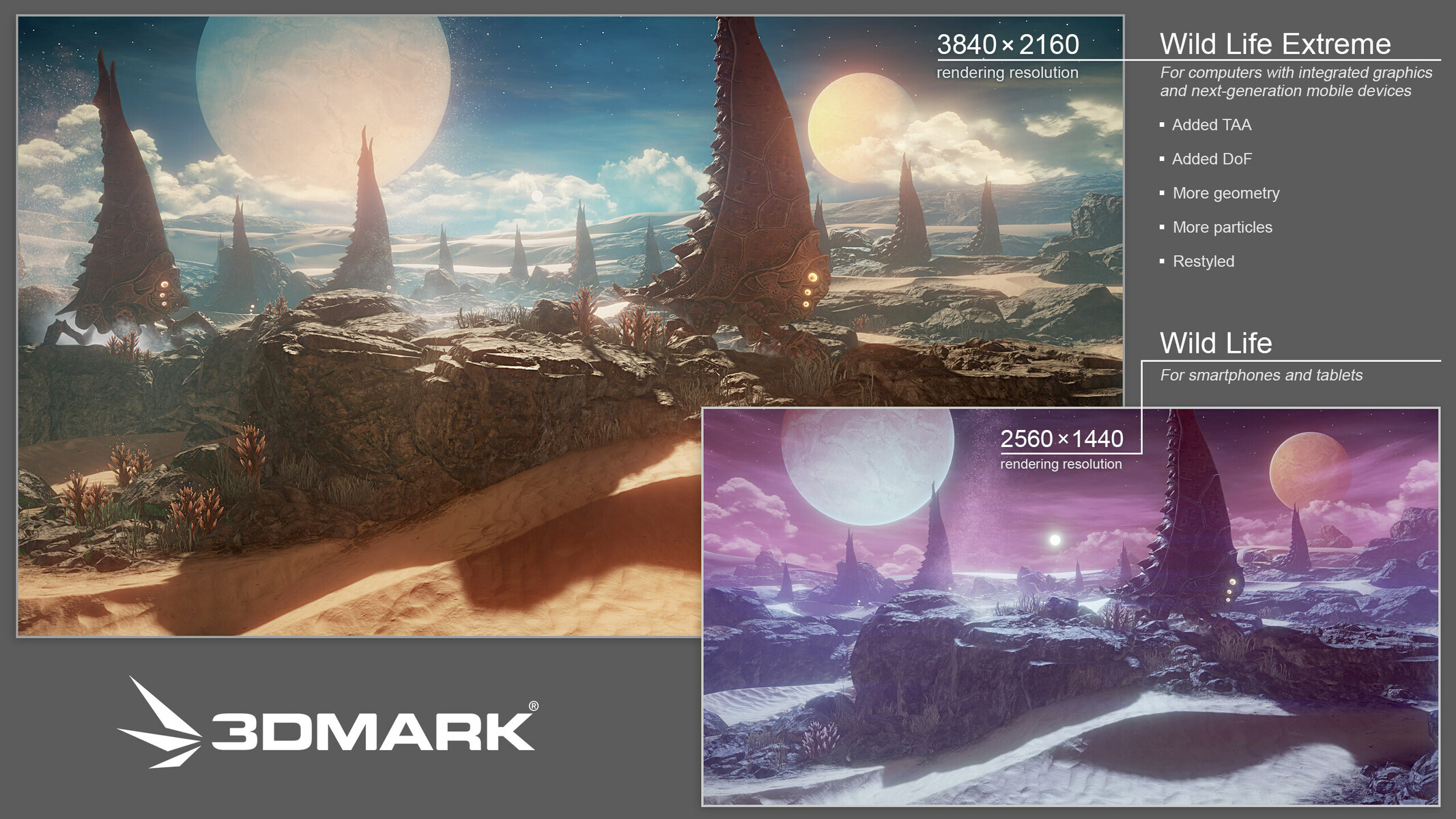 3DMark Advanced Edition includes the Wild Life Extreme as a free update. Customers with a valid annual license of 3DMark Professional Edition also have free access to the Wild Life Extreme benchmark.
Android users can now download Wild Life Extreme as a free update for the 3DMark Android benchmark app. To run it, your mobile device has to run Android 10 or later and support the Anisotropy feature level 16 and above.
As for Apple users, the Wild Life Extreme benchmark is available on the free 3DMark Wild Life iOS benchmark app. The iOS device compatibility list starts with the iPhone 7 Plus and beyond. Only Apple Mac computers powered by the M1 CPU are compatible with the benchmark.
Discuss on our Facebook page, HERE.
KitGuru says: Have you already tried the Wild Life Extreme benchmark? What score did you get on your device?