As much as I loved Stoic Game's Banner Saga, with all of its Viking lore, Disney-like art style and tactical combat, the enemies in the game did grow a little dull after a while. They were all the same and their attacks didn't change much, even if they did have a thematically appropriate endless, emotionless feel to them. That's likely still the same in the board game based on the world too, but the models look wondrous. I really want to paint them.
Called Warbands, the cooperative board game is designed with 2-4 players in mind, as they take on the roles of various characters from within the Banner Saga universe. The team must traverse the snowy landscape, fighting enemy 'warbands', levelling up and dealing with some of the random events that plagued those who have battled through the single player digital experience.
Those events are card based, so while your choices might be noble, it won't always be easy to figure out what the most positive outcome will be.
When it comes to combat, the developers have made a point of stripping luck from the equation. You can move a set distance, attack for a set amount or use a certain skill, which has a pre-defined outcome. There's no dice, no spinny wheels and no card pulling in combat. You fight and die by the numbers.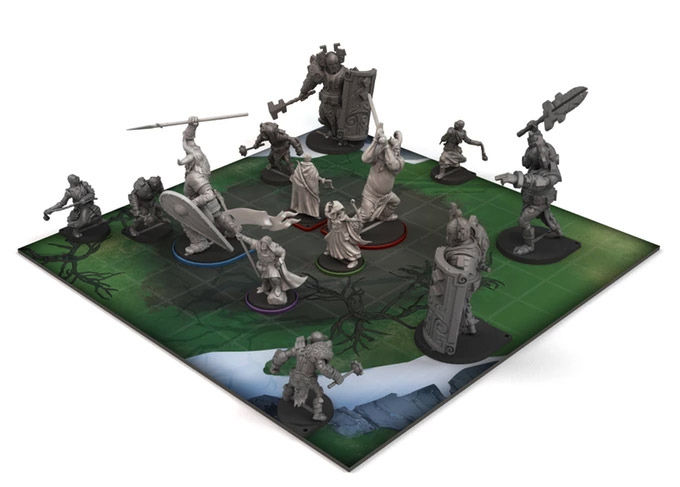 Although that is something that should appeal to the more tactical players out there, the lack of any randomness does have the potential to lead to a power-gamer on the team doing all the maths for everyone (as per PCG) – though that is a somewhat present danger in any cooperative game.
Stoic has kept the pledge levels simple for those wanting to contribute. The base $15 one will get you the Banner Saga PC game, as well as a Kickstarter exclusive miniature for the board game. Upping the ante to $80 (£60) gets you the board game itself, as well as all physical stretch goals reached – though shipping will be extra.
For $200 (or $190 if you got there early), which works out to £131, you get the board game, all physical stretch goals, plus all the add on purchases. Those include additional Dredge enemy miniatures, some willpower "crystals," an additional boss monster, a new Godstone mini-expansion and a number of digital extras like the Banner Saga sound track and access to the second game for free when it comes out.
If you just want to see Stoic succeed however, you don't need to pay anything. It's already passed its Kickstarter goal and has 21 days to go. This campaign is going to do fine.
Discuss on our Facebook page, HERE.
KitGuru Says: The entirely tactical combat seems like it could miss out on some of the epic moments created by dice tension, but likewise it will eliminate any feeling of unfairness the game may have. What do you think of games without any random component at all?