A video showing some leaked beta footage of Battlefield Hardline has appeared online, giving us a much better idea of what gameplay will be like, what sort of equipment and vehicles we'll have access too and how the game plays without a load of jump cuts.
Update: Thanks to Facebook user David Payne for linking us to a new source for the video.
Besides the fact that beta user "bumsfideldi" (that's the identifier that regularly flashes on the screen and will presumably lead EA to the leaker in due time) can't drive and regularly smashes into things while tooling around the police's garage of vehicles, there's certainly an impressive range of driveable cars and bikes for players to choose from. From sports bikes to full on SUVs, there's a whole gamut of law enforcement options, just for getting to the crime scene. Some of them equipped with mounted roof weaponry and smoke launchers.
There's even a chopper out front too.
The environment is pretty huge, with a small city to explore – though it is somewhat deserted – with an accompanying motorway to its side. Buildings climb into the sky, with cranes and rooftops to fight on, as well as underground sections that look like they could give a lot of options for high speed chases, especially when you think your quarry is cornered and suddenly he comes barrelling out of a tunnel in an fuel tanker.
Unfortunately there's no player interaction in this video, so it doesn't show us anything in the way of team work or how enemies will give each others problems, but in this particular setting, both teams (with only one populated by our leaker) were required to recover a pile of cash.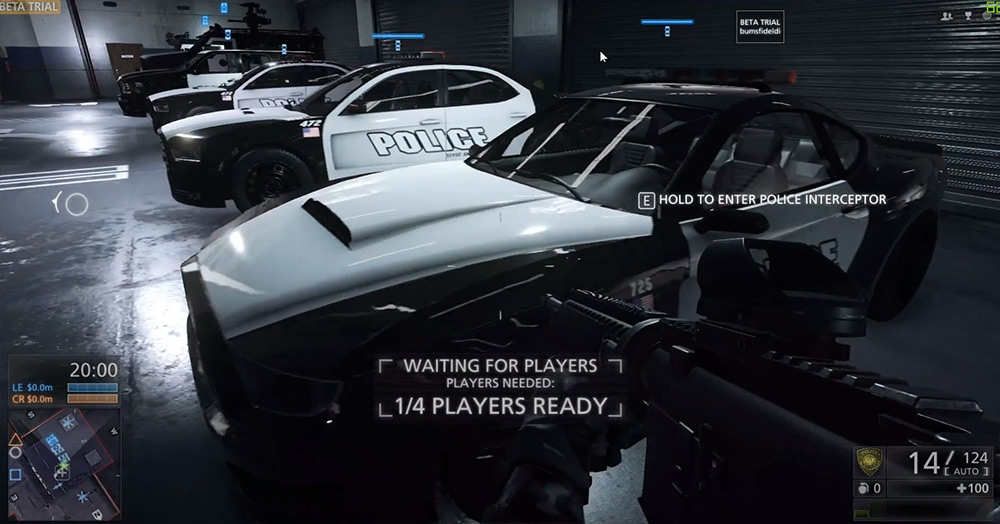 Looks like you won't be waiting around for vehicles in Hardline
While respawning at one point, we get a chance to see the class system, which offers this police officer the chance to pay an operator (which has a medic symbol next to its name) a mechanic, enforcer or professional ,with slide options that suggest more.
Overall it's a very pretty game that mixes up combat on foot and in vehicles. There's a lot of traditional battlefield elements that people will be familiar with, but the formula is at least a little different.
Discuss on our Facebook page, HERE.
KitGuru Says: However it does feel a little like this could have been a map/mode that was added to other Battlefield games, rather than needing its own entire game. What do you guys think?