Galactic Princess is a game we first heard about back in early December. For a game that hadn't launched its Kickstarter, or applied for Greenlighting on Steam, there was a lot of information on it – plenty of screenshots, a video of gameplay action, fleshed out backgrounds for races and weaponry, but now it's got all that and both campaigns are running, so if you want to help fund it, or get it onto Steam, now's your chance.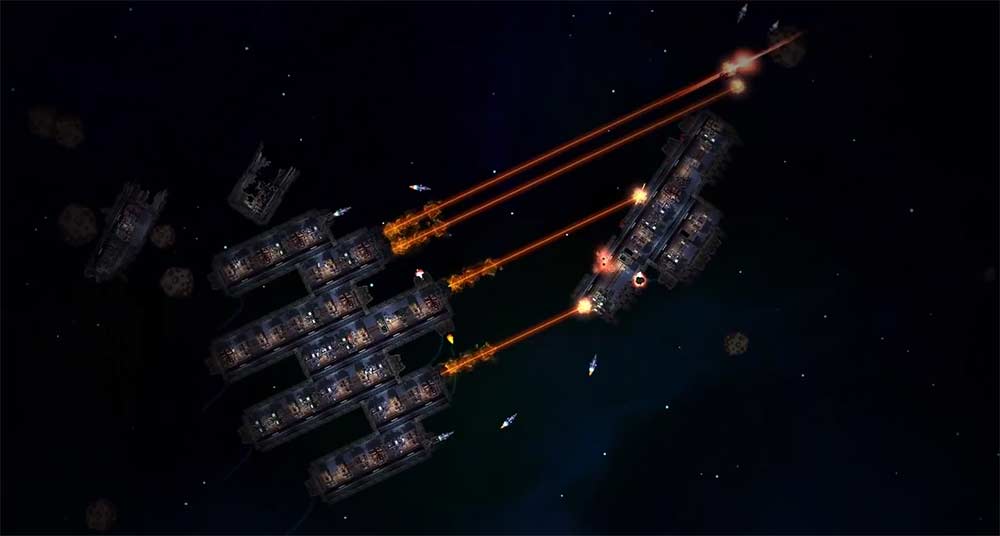 Using a beautiful pixel aesthetic, Galactic Princess has elaborate goals – hence the December 2015 planned release date – purporting to offer not only full ship building customisation  – you decide module placement in any configuration you want – but tens of different weapon types for your ship and crew, crew training, manual ship control, scout ships that launch from your main hangers, crew battles on your craft and the enemy's and an interesting hud-less mechanic, where key elements of your ships's status, like oxygen and hull integrity, will display on screens your crew are monitoring.
[yframe url='http://www.youtube.com/watch?v=F5O8Al-mPhk']
The scale is also quite staggering. It's perfectly possible in the game's engine to, in one long zoom, go from a galaxy wide view, to your individual ship.
Story wise, the game picks up four billion years in our future, where Andromeda and the Milky Way galaxy have merged to "give birth to a new stars order, where only the strongest survive."  Beyond that, we don't know much, but it seems like with the level of customisation that is available with this game, much of it will be what we make of it.
We also know you can take space slaves if you want, as well as enlist robots and no doubt a princess along the way.

Crew training will be important too
Modestly, the makers of GP, CECLY from France, are looking for only £20,000 to finish the game, though there are of course a lot of stretch goals. There's things like a new module system for even crazier space craft building, increased mod support, weapon editors and even a 2D platforming system which would let you manually control your ship's captain in combat.
If you want to help out the campaign, you can pledge money here, or vote for the game on Steam Greenlight here.
Kitguru Says: I'm really impressed by the potential scale of this title, as well as its beautiful pixel engine, but I don't think I can put money down on something I won't get to play for almost two years. It's just too long.