For the past couple of years, Korea has been head of the pack when it comes to professional League of Legends play, with two out of the top three teams last year hailing from the small nation. However that may no longer be the case, as Chinese team Edward Gaming has managed to beat South Korean standout SKTelecom T1 in a mid-season Invitational tournament, taking home $100,000 in prize money for their efforts.
"We had a positive mentality going into Game 5. And I think we did the best at bans and picks for Game 5," said a team spokesperson (via Lolesports). The pre-game champion selection process did indeed play into EDG's hands, with opposing number Faker picking LeBlanc after being baited into it, giving EDG's PawN the opportunity to counter-pick Morgana with a build specifically designed to be a problem for his opponent.
It paid off, as after the fifth game EDG walked away with the prize money and other mid-season awards.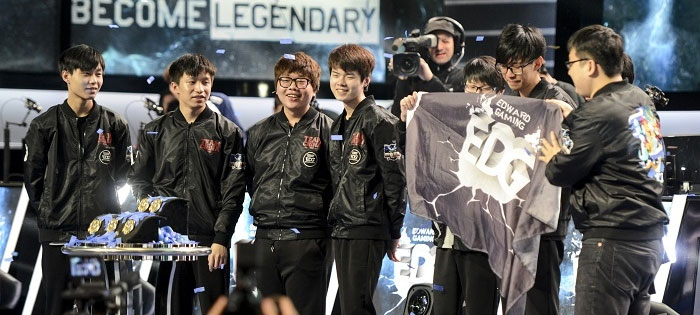 However there is some discussion in the LoL community about whether this is a legitimate win for Chinese teams. Since SK's dominance last year, many Chinese firms have offered large monetary contracts to sign on some of their best players. EDG for example, hired on PawN from Samsung Galaxy White, which won the World Championships in 2014. While he took the mid-lane spot, fellow Samsung Galaxy White player Deft, also joined as AD Carry.
Some wondered if it was as easy as bringing over better players, suggesting that the team may not gel as well with more international players and their egos, but clearly that wasn't the case.
Discuss on our Facebook page, HERE.
KitGuru Says: It will be interesting to see how South Korea responds if every time it builds a great team, the players are bought away by other well funded teams.
Image source: Riot