With the news doing the rounds this morning that Blizzard won't be making any big announcements about legacy World of Warcraft servers at Blizzcon, we'd like to ask you the question: Do you think classic MMO universes should be preserved? If so, would you pay for the privilege?
One of the best aspect of contemporary, especially online, gaming, is that they are inter connected and have much more multi-player functionality than games of yesteryear. However anything that requires online servers and can't retain a solid population base to pay for its upkeep, is destined to one day be tossed to the wayside.
This means that persistent online worlds, be they for a small, shared online experience, or something much grander like an MMO, reach a point and then are destroyed. Whether we're talking about the recent vanilla WoW server, Nostalrius, Microsoft's Project Spark or as many as 50 different EA games all at once. And this is just from the past few years, in the last two decades, we've seen countless MMOs and online worlds disappear for good.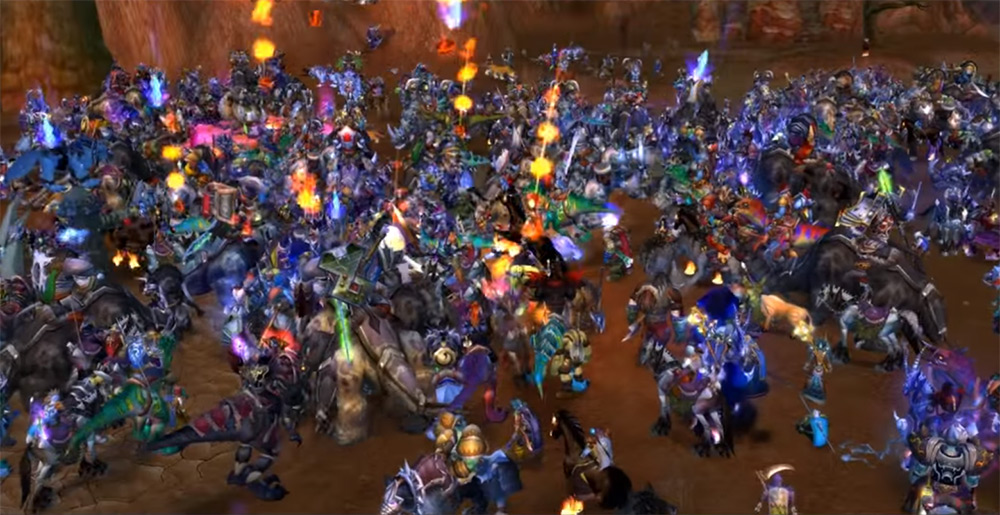 MMO fans have often gathered in huge numbers during final server shut downs. Source: Oeddelino/Youtube
What about City of Heroes or Warhammer Online? Star Wars Galaxies? Shadowbane? The Matrix Online? These are all worlds that no longer exist in their official guise. These are worlds that apart from the odd limited fan-project, no longer exist. But should they?
With the thousands of people who have clamoured for Blizzard to deliver a legacy, vanilla version of Azeroth for them to play on, surely there's a place for some of these worlds? Of course the problem with running these severs, indeed the reason they don't exist in an official guise any more, is a lack of funds. Paying to run servers isn't cheap, especially with thousands or even tens of thousands of players. Paying for admin and community leaders isn't cheap either.
But perhaps there should be something. Even a frozen snapshot of a world with zero interaction, that you can merely explore and look at. Like a photo of a bygone era. Something from these worlds should survive, something more than screengrabs and videos.
Discuss on our Facebook page, HERE.
KitGuru Says: Do you think we should be trying to find a way to preserve the online worlds we have all spent so much time enjoying?