Although we'll never say never when it comes to a game like Donkey Kong, it may well be that the newly crowned champion, Wes Copeland, is never beaten. With  a score that not only defeated his arch arcade rival, Robbie Lakeman and even long-time MAME champion Dean Saglio, the 1,218,000 score Copeland achieved late last week could well be considered a perfect score.
If the last time you checked in with Donkey Kong records was watching King of Kong, I'm afraid the world of competitive DK play has moved well beyond the efforts of documentary stars Billy Mitchell and Steve Wiebe. At the time of writing, they sit at 19th and 18th best in the world, with their respective million+ scores. They're still great players no doubt, but the top crop in 2016 is much more capable.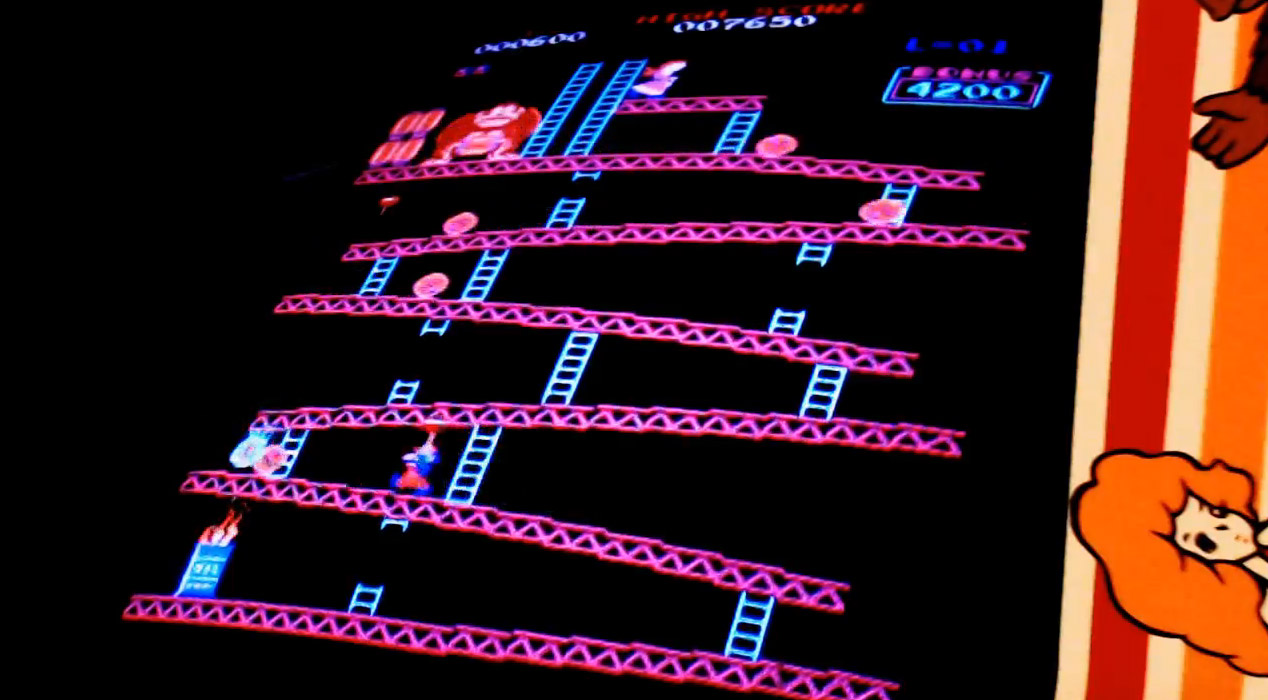 Although Hank Chien, the long running DK champion still maintains a solid spot in the top four of world rankings, even his score today is far surpassed by the current champions of the game.
For the past month, Robbie Lakeman and newly crowned champion Wes Copeland have been going back and forth with solid scores, pushing the game to new heights using original arcade hardware. Lakeman's best ever result appeared on the 11th April, with 1,190,200 points.
A solid effort no doubt, but still shy of the 2013 MAME record set by Dean Saglio, of 1,206,800 points; a score that many considered practically unbeatable. Until Copeland swooped in and did so.
In a live-streamed effort, Copeland used his original Donkey Kong cabinet to make it all the way to the penultimate screen, after 115 boards/levels without losing a single life. That meant that he was able to deliberately lose three of his remaining four, in order to maximise his score before the final kill screen.
Watch live video from WesCopeland on www.twitch.tv
When he finally made it to that last board and the unbreachable ending of Donkey Kong was achieved, his score sat at 1,218,00, a score that will be nigh-impossible to beat.
Copeland himself won't be beating it any time soon either, as he has pledged to end his world record runs and only compete in live tournaments from now on. Others like Lakeman and Saglio may take up the torch in the hunt for an even more perfect game, but unless an unknown suddenly appears with new strategies or ways to generate a few extra points, it seems hard to imagine someone capturing Copeland's crown.
Discuss on our Facebook page, HERE.
KitGuru Says: Congratulations to Copeland, as it seems likely his score will stand the test of time. Standing on the shoulders of the Donkey Kong giants that came before him, he made it through challenges that make modern games look pedestrian by comparison, all without losing a single life. 
It's quite a gauntlet that he's thrown down. Any of you hardcore gamers fancy picking it up?
[Thanks DKBlog]