While we have had a few retail leaks giving us an idea of when to expect the release of The Witcher 3: Blood and Wine, we haven't had anything truly definitive, well until last weekend, when the Steam store page for the expansion was accidentally updated to show the release date, before being quickly taken down.
CD Projekt Red has said recently that it would be sharing more information on its largest Witcher expansion this month and now, it seems like we can expect it to release on the 30th of May.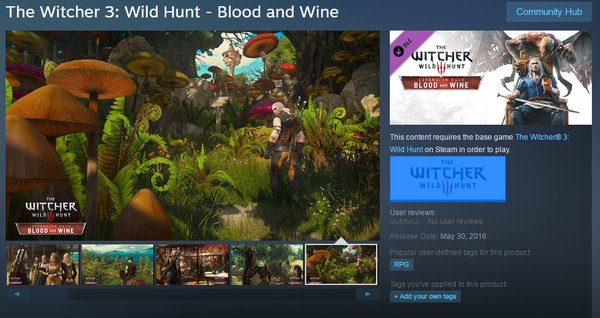 It seems likely that someone over at CD Projekt Red was fiddling with the details of the Blood and Wine Steam store listing, before accidentally going live with it ahead of time. The page almost went down immediately after but not before people got screenshots. 
Given how soon that date is, we could probably expect to see a trailer and hear some form of official announcement from CD Projekt Red in the next week or so. However, it is worth noting that this date does clash with previously listed retail dates, which pointed to an early June release. That said, the Steam leak is probably a tad more trustworthy.
KitGuru Says: There are a lot of Witcher 3 owners waiting for this release, including myself, so I am hoping that this Steam leak proves to be accurate. Are any of you planning on playing the next Witcher expansion when it comes out?