Although competitive gaming is far bigger today than it once was, it's not just about League of Legends, Counter Strike and Call of Duty. There are still some classics kicking around the competitive scene and while there are a few popular ones among them, none are quite like the original Donkey Kong. Raising the bar ever higher, former champion Wes Copeland has come back strong in 2016 to reclaim the crown.
If the last time you paid attention to Donkey Kong records was when the King of Kong was released back in 2007, then you have some catching up to do. Although Steve Wiebe and Billy Mitchell are considered pioneers in the game, especially when it came to breaking the mythical one million point mark, their scores are no longer relevant at the top end of the charts.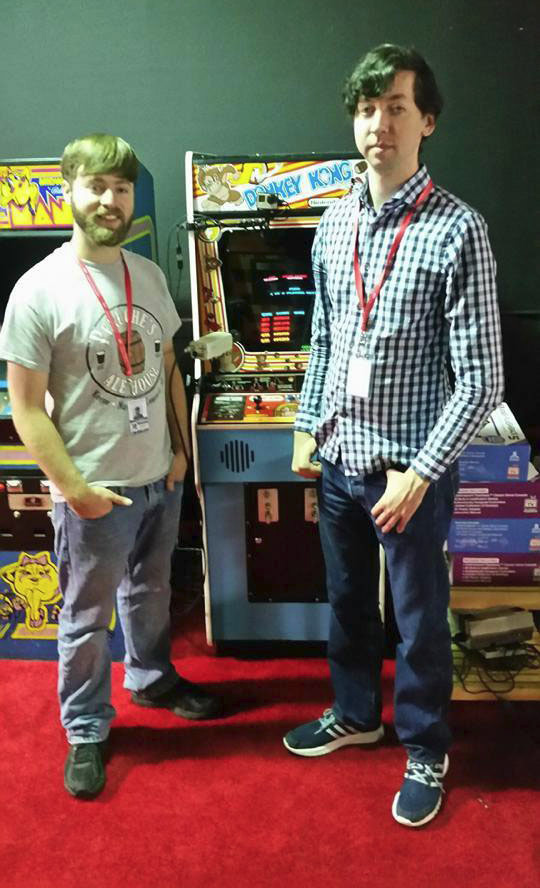 Copeland (R) and Lakeman (L) pictured together. Source: DonkeyKongBlog
Indeed their scores are currently ranked 15th and 16th respectively, with neither having placed highly on the board since 2010. 1.06 million is impressive with few people in the world able to even get close to those totals, but the real high-end players are far beyond that now.
The new record by Wes Copeland sits at 1,190,000 and was submitted on the 3rd January this year, taking a bat to Robbie Lakeman's 1,177,200 score posted back in October 2015. It still falls short of Dean Saglio's 1,206,800 record set on the MAME emulator back in 2013, but the true champion has to complete their run on an original 1981 arcade cabinet.
Watch live video from WesCopeland on www.twitch.tv
What's particularly interesting about Copeland's latest run though, beyond its record setting ways, is that his pace was on-point to beat even Saglio's score, but Copeland did not secure enough points in the earliest levels of the three hour+ endeavour to break it.
Lakeland did try and retake the record in quick succession – as he did within six hours the last time Copeland became champion – but fell short, and quickly sent a congratulatory message to the new king of Kong. Both men have said they plan to take a break from the game, but perhaps will return once again.
Discuss on our Facebook page, HERE.
KitGuru Says: Don't count old champion Hank Chien out yet though. He won the head-to-head Kong-Off against many high level players and former champions last October. He may have it in him to return to the top of the pile.
[Thanks DKBlog]