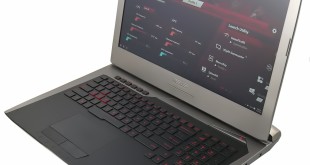 We had a good look at a preview model of the ROG G752VT but there is nothing quite like the experience of unboxing a brand new full retail gaming laptop. The headline features are Intel Skylake Core i7, Nvidia Maxwell graphics and a Full HD 17.3-inch IPS screen with G-Sync technology, which sounds like the basis of a fine gaming laptop. G752 is divided into three families, depending on which graphics chip is used to power the pixels. G752VL uses Nvidia GTX965M (not coming to the UK), G752VT has Nvidia GTX970M and G752VY is the Full Monty with Nvidia GTX980M. 
Cosmetically the G752VT is gorgeous and the 'Armour Titanium and Plasma Copper' is truly impressive.
The changes in our retail G752VT, compared to the preview version, are relatively trivial. We have 16GB of DDR4 memory and a DVD combo drive rather than 64GB and a Blu-ray writer and that's pretty much your lot. All the big bits remain in place so we are talking about a 17.3-inch IPS screen with Full HD resolution and G-Sync, Skylake Core i7-6700HQ, GTX 970M graphics and a Samsung 128GB NVMe SSD.
Asus ROG G752VT Specification:
Display: 17.3″ FHD IPS LED (1920×1080) with G-Sync
Processor Type: Intel Core i7-6700HQ
Processor Cores: 4 (8 Threads)
Processor Clock Speed: 2.60GHz (3.50GHz Turbo Mode)
Hard Drive Supplied: 1x 1TB
Solid State Drive: Samsung SM951 128GB NVMe M.2
Memory: 16GB DDR4-2133MHz
Graphics Chipset: NVIDIA GeForce GTX 970M
Graphics Memory: 3GB GDDR 5
Optical Drive: Blu-ray Combo
Wireless: Intel Dual Band Wireless-AC 7265
USB 3.0 Port(s): 4
USB 3.1 type C: 1

Graphics outputs: HDMI, Mini DisplayPort
Microphone Jack(s): 1
Headphone Jack(s): 1
LAN Port(s): 1
Card Reader: SD
Web Camera: HD type
Dimension: 428mm (W) x 334mm (D) x 43mm (H)
Operating System: 64-bit Windows 10 Pro
Product Weight: 4.06kg with 6-cell battery, 4.36kg with 8-cell.
In practice we found the 128GB SSD was on the small side as it pretty much obliges you to install your games on the 1TB mechanical hard drive.
Other than that the hardware was impressive with the fast, responsive and impressive feel that you expect from a laptop that costs £1400. Actually, make that 'the response you expect from a Republic Of Gamers laptop that costs £1400'.
Testing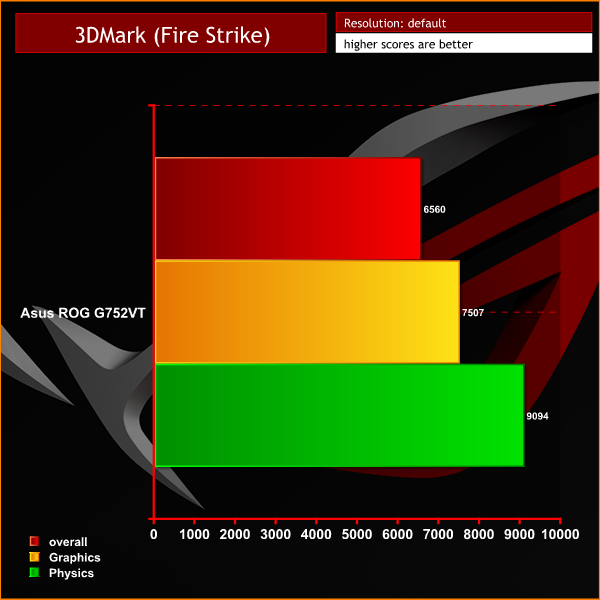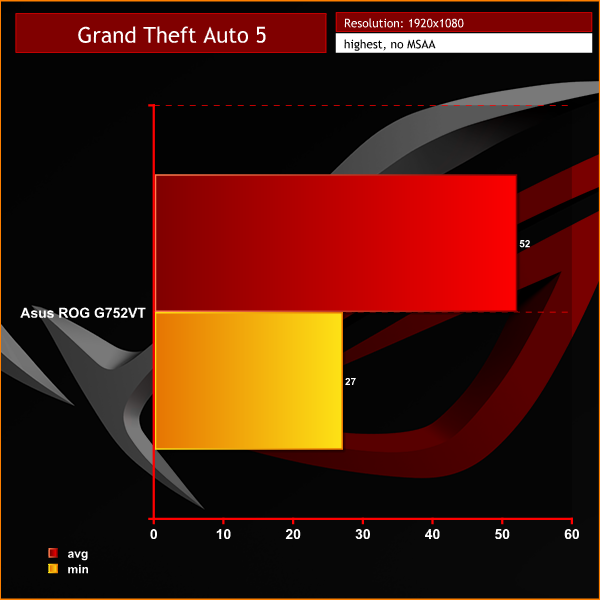 Running 3D Mark and Grand Theft Auto V yielded the results you expect from an Nvidia GTX 970M with Skylake Core i7 and a Full HD experience. It works and works well however we noted a quirk in the Cloud Gate test in 3D Mark.
The Physics score was good however the Graphics score was one third the level we predicted. This made little sense and an Nvidia driver update from version 359.06 to 361.43 made little difference.
As you will see in our video we ran GTA V without problem (although our High Quality settings reduced the frame rate) however Metro Redux stuttered badly. It would run smoothly and then stop. Smooth then stop. Again we have no explanation.
Clearly there is an underlying issue that may be due to graphics drivers, the software install or possibly the BIOS. The hardware feels rock solid and the underlying laptop does not feel like it is the culprit.
Thermal Dynamics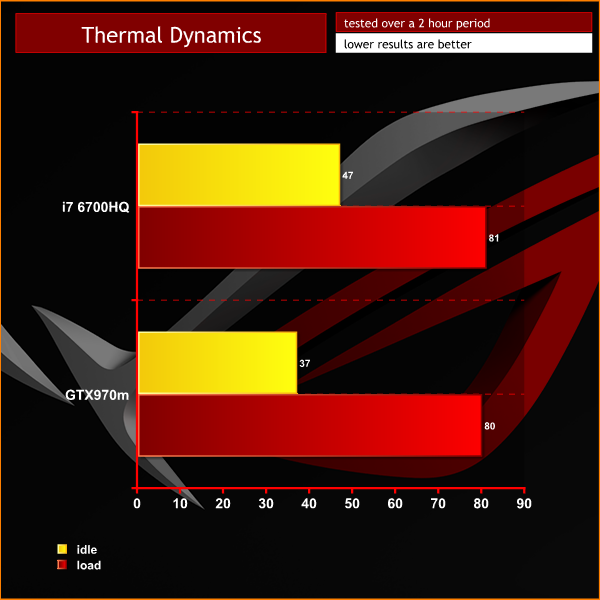 Asus has worked hard on thermal management in this series of laptops, mainly on behalf of the G752 VY which uses GTX 980M graphics and has a vapor chamber cooling system, which is unnecessary for this G752VT with GTX 970M.
The other major features of rear ventilation and an anti-dust thermal tunnel that keeps the heat exchangers clear are both present and correct. Under extreme load the G752VT kept the GPU at 60 degrees and the CPU at 81 degrees.
Acoustic Performance
When the G752VT idles it is practically silent. Under load the cooling fans are audible but impressively quiet. If you were to use this laptop in a library we doubt you would receive any complaints. It is that quiet.
Battery life
We saw two hours 29 minutes of battery life when continually looping PC Mark 8 which equates to five hours of life in the real world which is pretty good going for a 6-cell battery in a gaming laptop (albeit while not actually gaming).
Closing Thoughts
The Asus ROG G752VT is fairly expensive but in return you get a big, heavy, impressive laptop that is packed with gaming goodies and a dollop of ROG software and features. At Full HD you can play games with decent image quality but clearly if you want the max you will need a G752VY with GTX 980M.
Clearly there is some sort of glitch in this laptop that affects 3D Mark Cloud Gate and Metro Redux and we are going to cross our fingers and hope that is fixed soon.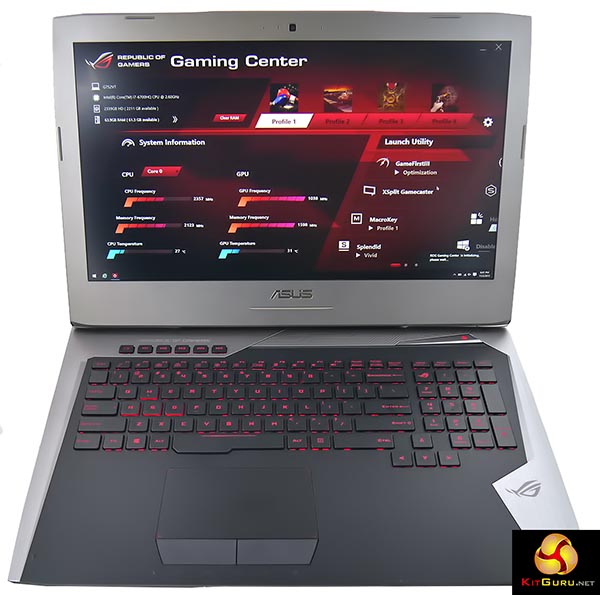 Cosmetically it is a work of art, however there is no denying is it big and heavy and not much fun to carry from place to place. The 128GB SSD is rather low in capacity and we have to hope the spec changes to 256GB when prices fall, as they inevitably shall over time.
Discuss on our Facebook page, over HERE.
Pros:
Intel Skylake Core i7.
Nvidia Maxwell GTX 970M or 980M.
Full HD IPS screen with G-Sync.
16GB DDR4 memory.
M.2 Samsung NVMe SSD has loads of performance.
Backlit keyboard.
Useful suite of Asus hardware.
Clever cooling system for CPU and GPU.
Funky metallic styling.
Surprisingly good battery life.
Cons:
There is a performance glitch in a handful of benchmark tests.
This is a heavy laptop that weighs in over 4kg.
128GB SSD is rather small.
KitGuru says: We are impressed by G752VT and expect it will deliver the full gaming performance in the near future.