Don't Starve Together, the long requested and long denied standalone multiplayer expansion to the original Don't Starve, has just received a bunch of free content updates. After many months of tinkering, developer Klei Entertainment has added all of the additional features from the original game's expansion, Reign of Giants, bringing with it the eponymous giants, seasons to contend with and a bunch of new characters to play as.
Although a lot of the content has been added unofficially by modders, this is the first time that players will be able to face off against some of the tougher end-game bosses – although the Deerclops has already proved dangerous for multiplayer gamers. Contending with the addition of rainy springs and scorching summers too, should add further difficulty to the experience.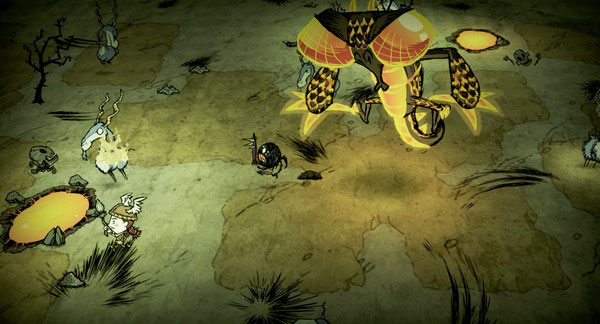 As well as adding different times of year and corresponding monstrous enemies, the RoG update also bundles in two new biomes: the Desert and Deciduous Forest, both of which come with unique enemies and spawns for players to utilise in their quest to stay alive.
[yframe url='http://www.youtube.com/watch?v=9wuW3MXLyTI']
As with the original expansion however, there are some updates to the way the game plays that make some of the easier exploits from the original defunct. No longer can players leave rabbits and other captured wildlife in storage boxes indefinitely and food left in a crock pot will now spoil just like everything else.
The only downside to the update, as EG points out, is that while saves will continue to work after it, the new content won't appear until a new world is created, which means a brand new save. Still, this does mean it's a good time to convince your friends to pick up a copy, which can be found for £14 for the next few days on Steam Early Access. That gets you two copies of the multiplayer game, as well as the original single player version.
Future updates will continue to add missing Don't starve content, like the much requested caves, which add even more end-game antics for players that have mastered not starving.
Discuss on our Facebook page, HERE.
KitGuru Says: It's been a while since I played this, but it might be time to set up a new server.