Sales of the DotA 2 Internationals Compendium have been continuing over the past few weeks and once again we've hit a milestone in prize pool size for a single Esports tournament. $6 million is the latest threshold to be burst through, with the current total sitting at $6,123,272 at the time of writing.
This mammoth amount of cash just waiting to be won by the teams competing in the tournament, which takes place on the 18th through 21st of July, was collected by people buying the compendium – each one sold contributes $2.50 to the total – and through sales of "points," which compendium owners can use to level up and therefore win prizes like battle point boosters, items and a new International courier. 25 per cent of all point purchase money goes to the prize pool also.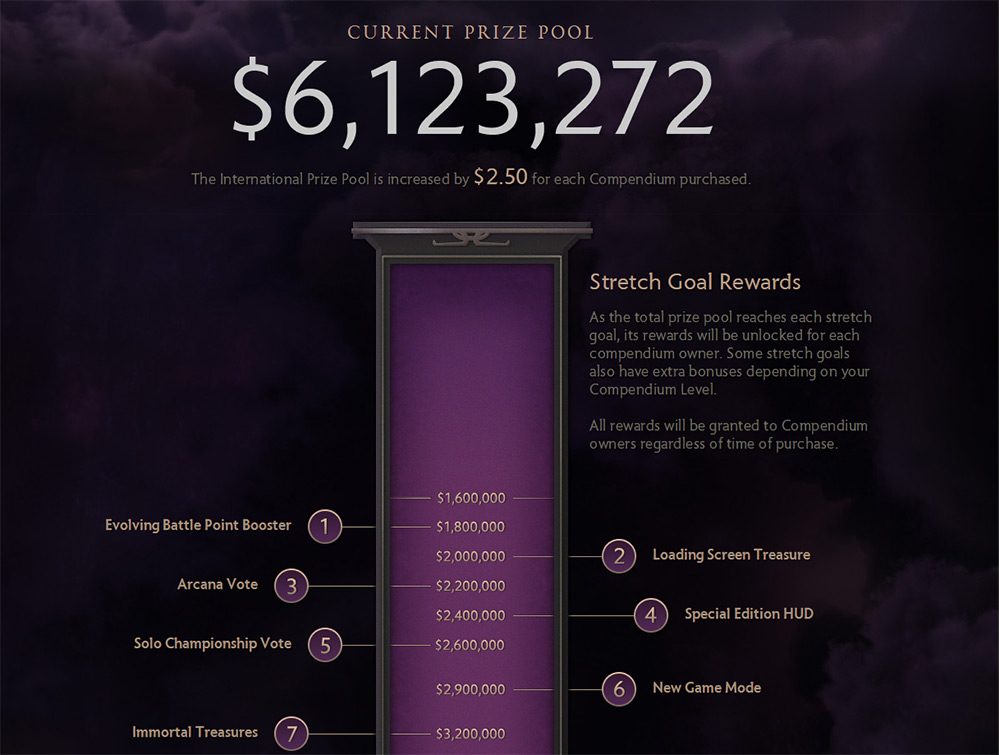 To encourage people to pay more and to no doubt tempt fate that it can become the first gaming organisation to offer up a $10 million prize pool (just three years after offering $1 million+ and shocking everyone involved) Valve has added a load of stretch goals to the compendium's kickstarter like funding table. Some of those stretch goals include new voices for a character (which you get to vote on) and a taunt that lets you predict a victory – the game then keeps track if you turn out to be right or not – a new type of creep that spawns when an enemy barracks is destroyed and live broadcasting of the Internationals after party.
Discuss on our Facebook page, HERE.
KitGuru Says: This really is a stupendous amount of money that some team (hopefully many, as the extra cash could mean all of the top teams take home something) is going to win. Do you guys think the total will break $10 million? If so, it sends quite a statement to Riot games, who's biggest tournament to date, last year's World Championships, "only," offered up $2.05 million.