Yesterday was a big day for those following Turtle Rock's asymmetrical monster hunting title, Evolve, as it revealed a lot of details about its main campaign and even hinted at what the third and fourth, as yet unrevealed monsters are all about.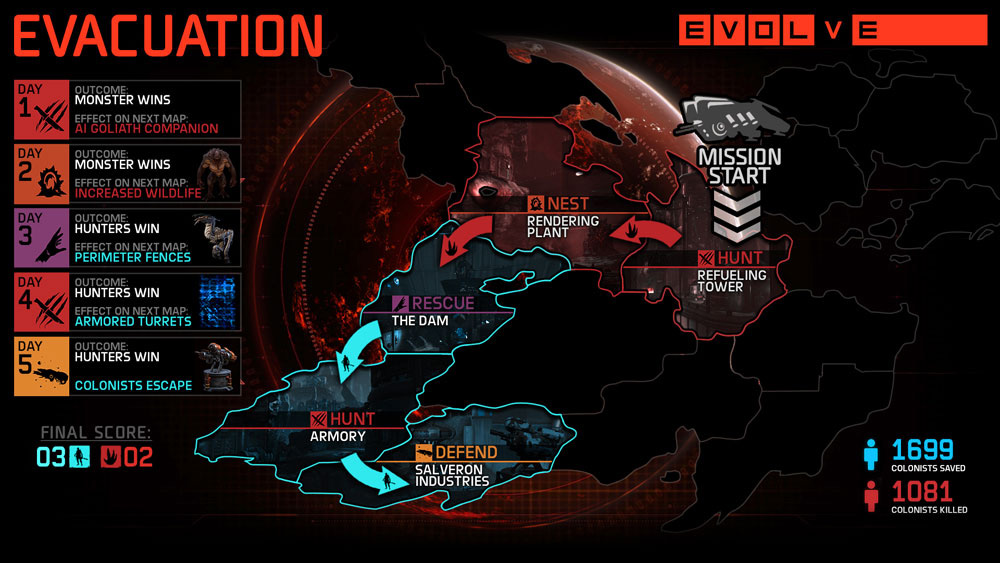 While Evolve has a multiplayer focus and players will have the ability to play any particular game-mode they want in a custom game style, it will also have an online campaign mode too, which lets you fight through several maps in a row, the outcome of each round affecting the next one in some way. It's called Evacuation and in the lore of the game, you and your fellow hunters are trying to take down as many of the monsters that are attacking planet Shear as you can, while the civilians are evacuated.
[yframe url='http://www.youtube.com/watch?v=o90N2arWdr4′]
Throughout the campaign you'll play through game modes like the already revealed Hunt and Nest, but also Rescue and Defend. In the former of those latter two modes, you'll be tasked with finding and recovering colonists that have been injured somehow, while the monster has to consume them if they can. In Defend, the monster gets a few ai friends in support, all of which are trying to take down the generators which the hunters must defend to the last.
[yframe url='http://www.youtube.com/watch?v=uqRx5f7iM_M']
What's really got a lot of people excited however, is all the information we have on the third and fourth monsters. In the story trailer above, you can see the monster called Wraith uppercutting the assault at 1:53. Similarly, at the end (2:12) is a silhouette of the recently named (though not revealed) fourth monster, which will come as free DLC to those that pre-order the game.
Wraith however, has been pretty well profiled before, thanks to a recent livestream that flashed up the following image long enough for someone to screengrab it.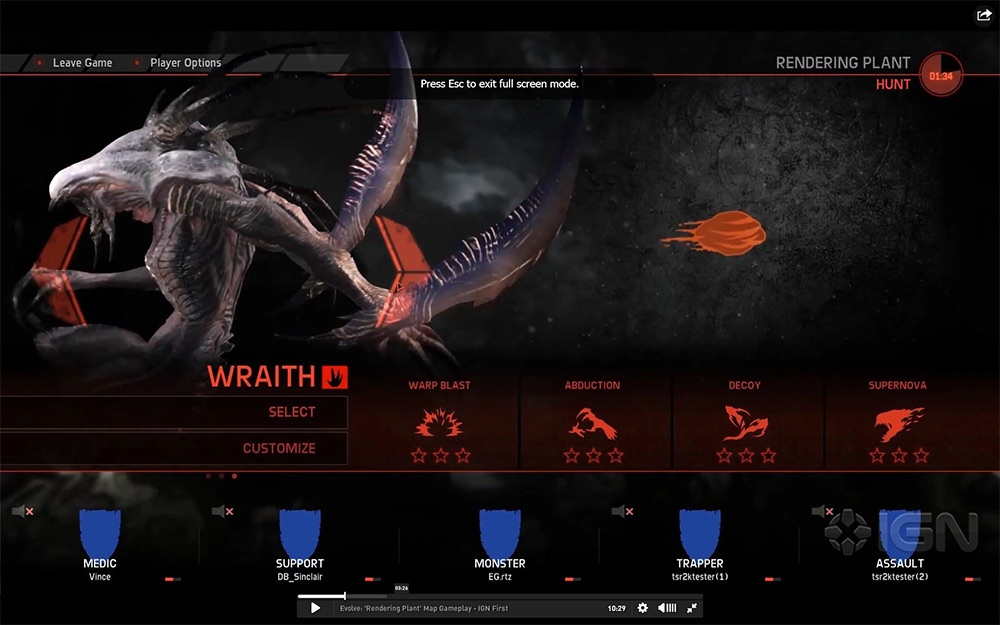 Discuss on our Facebook page, HERE.
KitGuru Says: What information do you guys find the most interesting here? Does the number of game modes and the campaign with knock-on effects, clear up any concerns that Evolve would be repetitive?