Despite not being heard of for nearly two years, Epic Games' Fortnite is finally having the lid pulled off it in practically daily reveals by Game Informer. Today we're looking at the campaign map, which is customisable, procedurally generated and still filled with the odd bit of curated content to take advantage of Epic's great mappers.
The game is split into level gameplay, where you're running around shooting and building in the third person, and the between-level town map. The latter is designed to offer progressively harder levels as you make your way through the town towards the storm that seems to be causing all of the problems. The map will vary in size depending on how long a campaign you want to play. You'll be able to select 10, 20 or 50 hours, with the map getting bigger the longer you want to play.
However when you enter a level procedural generation will meld with curated level design to create something new and fresh each time, with some specifically made set pieces. What ones appear on each level will depend on which zone it's in and this will also affect which buildings and objects show up as part of the procedural generation.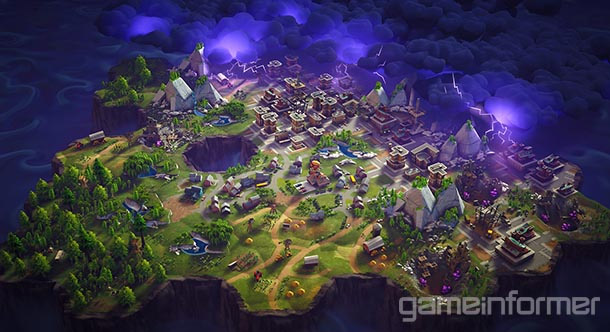 The game map will feature a hex-grid level layout. Source: GameInformer
While everything will be randomly generated though, structures will retain their unique characteristics. For example, chain link fences will always give you metal if you break them down. Certain houses will have basements and attics that could have rare items in too.
With the rest of the world falling apart, you'll need a place to call home – somewhere safe. That's what the Home Base is for, acting a bit like your strategic hub, where buildings that you construct give you certain buffs in the field. Expect it to get attacked at some point too, as that sounds like an epic siege waiting to happen.
Perhaps the most revealing part of today's Fortnite breakdown though, is that individual levels will be about completing objectives and creating hastily built, easily defensible objectives – not the forts we've seen in some trailers. Players will have a home-away-from-home they can build up, but it sounds from the break down that it'll be more for showing off to friends rather than actually playing in. That said, Epic has said it will put your fort into some other game modes, though it's not clear what yet.
Discuss on our Facebook page, HERE.
KitGuru Says: Fortnite doesn't have me quite as excited as it did two years ago. Back then we didn't have Rust, or Seven Days to Die, or any of the other survival, combat builder games. I'll still play it don't get me wrong, but it's not such a unique concept any more.