One of the best parts about GoG, is that whether you're buying one of the site's newest games, or its oldest, you get a DRM free installation that isn't beholden to some archaic software or login system. It's a beautiful experience for a PC gamer and it continues to be so with this year's Fall Sale, which not only makes those sorts of games available at a discount price, but is also giving away copies of Mount and Blade for free.
On top of all the regular discounted titles, there's also daily deals, which will see bundles made available for much less than usual. Today it's the Mount and Blade series, giving you Warband, Fire and Sword and Napoleonic Wars for a little more than £6. Similarly the "Ultimate D&D Collection," is priced down from £65 to just £13.
Then there's the flash sales, which are going to be refreshing ever 40 minutes and offer 79 per cent (oddly specific) discounts on a lot of interesting titles.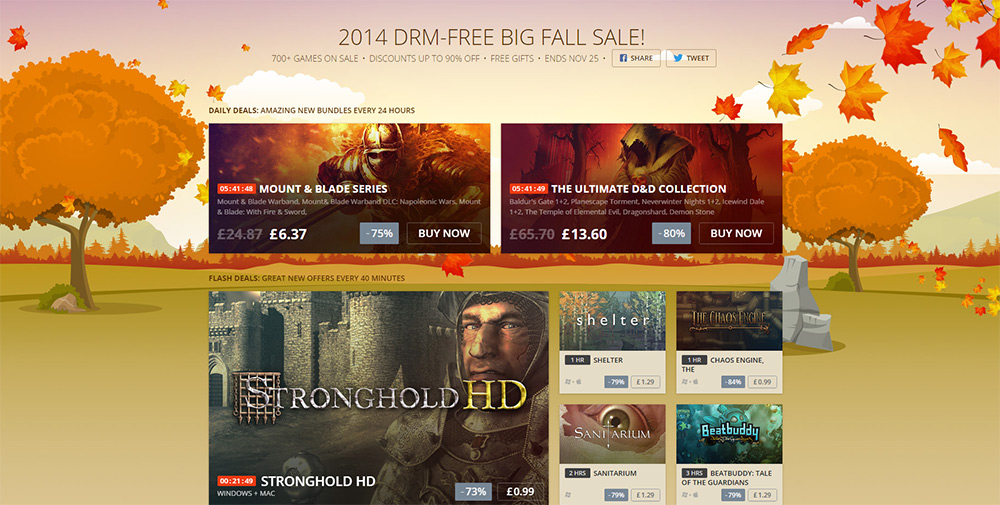 There's also a system that will net you a copy of The Wither 2 for free as well, but you'll need to login to your account every day and collect the stamps to earn that one.
The sale is set to run until the 25th November, so there's nearly two weeks of deal hunting action for the game hoarders among you. For everyone else however, there's a prospect of cheap gaming to be had and it's all the sweeter knowing that everything is compatible and comes without DRM.
Discuss on our Facebook page, HERE.
KitGuru Says: There's also some pre-order options up there for the Witcher 3: Wild Hunt and the board game from the same universe. They're discounted too.