The Oculus Rift has a lot to live up to when it's commercially released later this year (most likely) and one of the things some people are quite excited about, is the potential for large scale simulators, using make-shift cockpits, or hydraulic chairs to offer an experience you just can't have in your home; in short, arcades could make a comeback. But there are some parts of an arcade you could put in your home, especially if it was a virtual one. Anarchy Arcade is offering a multiplayer connected, custom game room for you and your friends with movies, videos and cabinet classics to play on, all in a 3D virtual space.
[yframe url='http://www.youtube.com/watch?v=Lzc4BBFOUfM']
Built on the source engine and therefore already benefiting from decent Rift support, Anarchy Arcade actually functions essentially as a 3D desktop and shortcut launcher, meaning games are booted by walking up to the virtual cabinet and hitting play, rather doing so in Steam.
It's not all just games though, but movies as well, favourite Youtube videos, strategy guides or books (though these are hard to read on the Rift at the moment) and the best part being is you'll soon be able to interact with friends and invite them into your arcade to look around. Of course they'd need to 'own' the same games and movies as you, or at least have them stored locally, but you could see in the future having streaming options to counter that problem. However in the mean time, they'll be offered download links and places to purchase for media that they don't have.
[yframe url='http://www.youtube.com/watch?v=8MW8hCGEUtk']
The arcade world has already been Greenlit on Steam, so there's a decent audience around this thing and of course you don't have to have the Oculus Rift to enjoy it, though you can see how that's the direction it's certainly going in.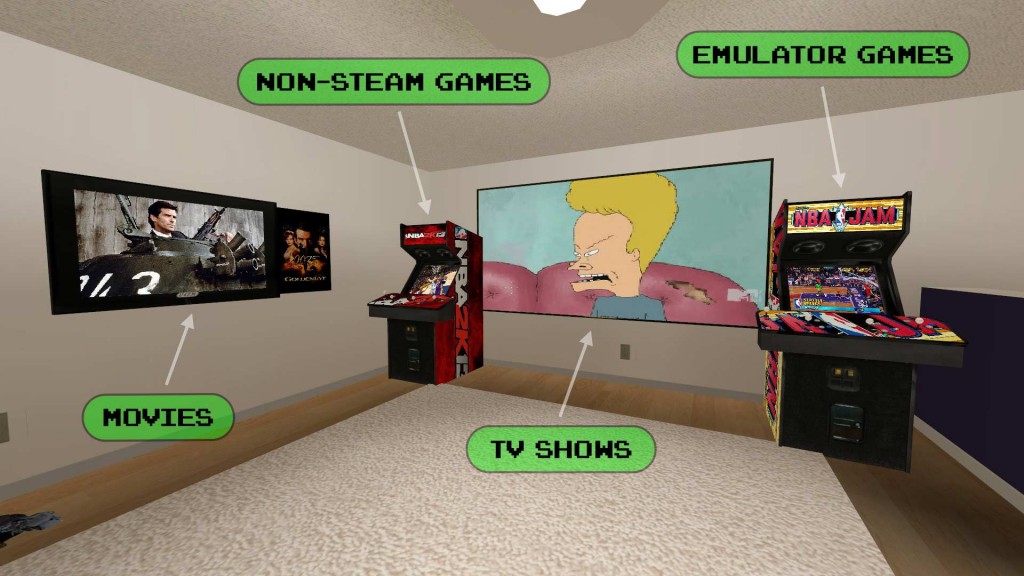 Game cabinets automatically pull HD side art and trailers to make them look the real deal
It's still in the early stages though, with a lot of development left to go. The upcoming feature list and order of implementation is as follows:
Improved & Revamped Backend
Virtual SmartPhone
Steamworks & Community Features
Multiplayer
Anarchy Mall
Kickstarter
Art Asset Overhaul
Steam Early Access
Addons & Scripting
User Arcades
Steam compatible, Origin compatible and able to offer the same experience to players regardless of the launcher – EG. You can play your arcade machine with a Steam game on it and your pal can play the same machine using his Origin version – Anarchy Arcades has the potential to offer a very augmented experience to online game playing and hanging out with friends.
KitGuru Says: The final version of this will certainly be quite interesting. Would you guys be interested in having a virtual room to play games in with your friends, rather than just see their name and current game appear on your friends list?