Hyrule Warriors made an official appearance at Nintendo's E3 booth this week and we now have some footage of it in action thanks to WiiU daily, which did some off-screen recording while running around as Zelda, slaying foes left and right.
If you've ever played a game of Dynasty Warriors or its derivatives, you'll have a rough idea of how thhe game works. You run around, slaying – Zelda themed – enemies by the hundreds, with special abilities cutting through tens of them at a time, only really finding a challenge when facing off against enemy leader characters.
[yframe url='http://www.youtube.com/watch?v=_MhnjzoyhKo']
In this video we see Zelda surrounded by enemies that typically don't put up any sort of fight, even the generals didn't seem to slow her down, though presumably this is a very early stage of the game. There's a minimap showing the invading enemies and some impressive combos and special moves and the game is certainly pretty, though not exactly stunning.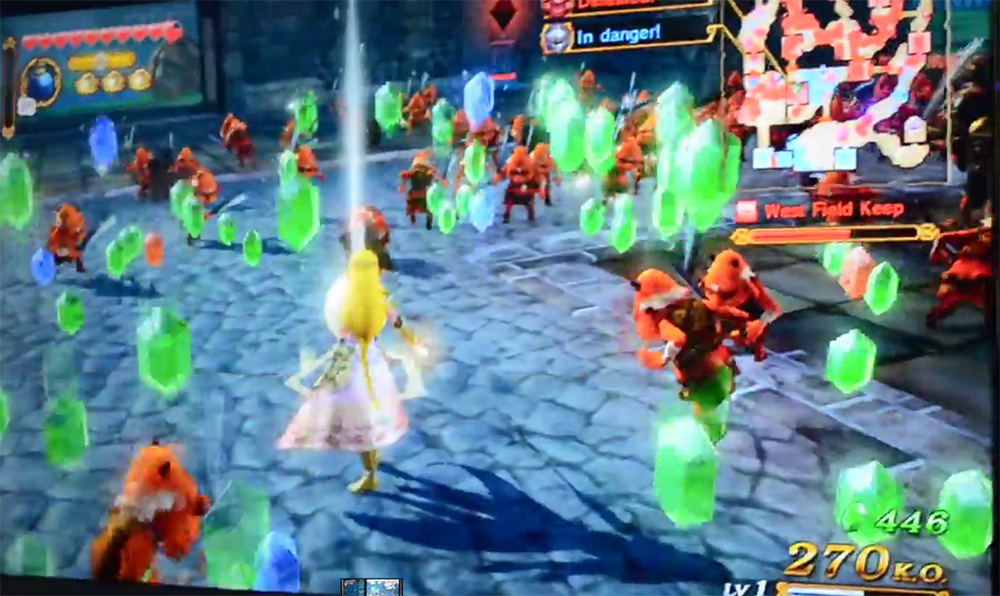 Slaying enemies gives rupees, which presumably relates to an equipment buying element to the game
I am really pleased to see that there isn't any of that typical Dynasty Warriors fade in/out of enemy charaters. Every is displayed from a distance and up close without much pop in at all.
Where it gets really exciting, is that the game turns into a fast paced version of Monster Hunter half way through the video, as Zelda is forced to take on King Dodongo. It rolls into the castle and becomes a major problem, showing that we could see some very different enemies in Hyrule Warriors, of vastly different sizes.
Discuss on our Facebook page, HERE.
KitGuru Says: I wasn't that fussed with this before seeing this footage, but this actually looks pretty damn fun. I've enjoyed Dynasty Warriors games in the past, so I don't see why I couldn't get on board with this.